Safety Culture
Safety culture can have a significant impact on the safety within any aviation organisation. A positive safety culture leads to open discussions around safety, fast identification of hazards, reporting of occurrences, high staff and student morale, and a reduction in occurrences. This may result in lower costs from accidents and incidents and increased business at your Flight Training School.
A negative safety culture, however, may result in staff and students hiding their mistakes. Individuals may not feel comfortable reporting occurrences or making recommendations for safety improvement. There is a higher likelihood for people to push safety boundaries or operate outside of SOPs, and staff and student morale may be low, leading to a loss of staff and students from your organisation.
Within the General Aviation and Flight Training School environment we often see significant concerns relating to safety culture. Commercial pressures may lead to instructors feeling obliged to operate in poor weather, or in aircraft with maintenance defects. Ultimately, this may lead to a serious accident or a loss of staff. Time and time again we see young pilots walking away from our industry due to poor working conditions, a lack of support, or due to them feeling unsafe to continue flying - This is not what we want for our industry!
So how can we improve the safety culture within our flight training school operations?
Safety culture must start from the top
It is extremely difficult to maintain a positive safety culture unless management and the CFI is dedicated to making it happen. If the people at the top aren't setting a positive example then it is unlikely that anyone will follow. Scenarios involving

do as I say, not as I do

, should be avoided at all costs.


Maintain a positive reporting culture
All staff and students should be briefed and encouraged to openly report hazards, incidents, or other safety concerns. Perhaps even more importantly, however, is how senior staff and instructors react when being informed of this information. If staff or students feel that they will be ridiculed or disciplined for reporting when they make a mistake, or if they feel that reporting isn't taken seriously, then this will lead to a culture of hiding occurrences or not asking for help when they feel something isn't quite right. FTSs should adopt an internal hazard/occurrence reporting form which can be filled in by staff or students for review and everyone should be educated on the importance of reporting.


Avoid putting commercial pressure before safety
We all understand that small businesses need to operate in order to make money. Unfortunatley, this can lead to the temptation to dismiss safety related findings or aircraft defects with a "she'll be right" attitude. This sets an example for instructors and students where they feel that safety findings can be overlooked, and may result in a more serious outcome. Whilst it can be hard to make the decision, if there is any doubt, a decision not to proceed should be made until further review, such as an inspection by a maintainer, has been completed.


Hold regular safety meetings
As part of the SMS at your flight training school, regular safety meetings should be held in order to discuss safety. This is an extremely valuable opportunity for CFIs and business owners to ask their instructors for their opinion on how safety can be improved, what hazards have been identified, and more importantly, to decide on actions to improve safety, processes, procedures and training/education resources. Ensure this is a space where everyone feels like they can contribute to the conversation to identify safety concerns and solutions for resolution.


Ensure everyone understands their safety roles and responsibilities
It is essential that all staff and students at a flight training school understand their roles and responsibilities, such as reporting hazards and occurrences and abiding by standard operating procedures. Whilst everyone should be made to feel comfortable to report hazards or occurrences, everyone should also understand that they have a responsibility to operate in accordance with safe operating procedures. It should be clear that processes and procedures exist for a reason and must be followed at all times.


Continue to develop and grow your team
Do you have a staff training or mentoring program? When you conduct instructor proficiency checks are these a 'tick and flick' exercise or an opportunity for further development? Is there additional training or courses that your staff could take (SMS training, spin training, upset prevention and recovery training, risk management training, etc.)?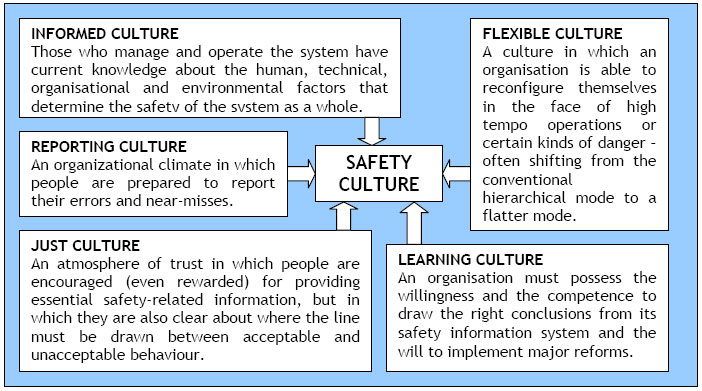 (Image source: http://aviationknowledge.wikidot.com/aviation:safety-culture)


Additional questions to self-assess your current safety culture
Ask yourself the following questions for an assessment for possible areas for improvement within your Flight Training School operations:
How do you approach discussions relating to safety with your staff and students?
Do you have a process for reporting hazards and occurrences within your FTS? Are your staff and students aware of the process and are reports regularly being received?
How comfortable would your students and instructors feel about reporting an incident in the event that they make a mistake?
How much commercial pressure are you placing on your staff? Is it possible that they feel pressured into operating when they do not feel entirely comfortable to do so?
What are you choosing to walk past (ignoring) that should really be dealt with?
Do you and your staff lead by exaple at all times?
What hazards exist within your local environment? How have these been identified and how are staff and students informed of these hazards?
Do you have clear expectations as to what is, and what is not, acceptable behaviour?
Do all staff and students know what actions to take in an emergency? When was the last time you practised a simulated emergency with your staff?
Do you attend local runway safety meetings with other operators in the local area? If one is not in place, could one be created to improve safety between operators?



(Image source: https://skybrary.aero/articles/safety-culture-atm)

The following video by CASA talks about safety culture from CASA's Human Factors Resources:
National Safety Month would not be possible without the support of our sponsors: