Flight Training Occurrence Review
National Safety Month is a time to focus on how we are performing as pilots and maintainers in our day to day operations and drill down into what the statistics are telling us and how we can improve. The relationship between effective training, ingrained disciplines and continued learning have a direct impact on safety outcomes for all of us. Let's look at what our training based occurrences can teach us.
Just the facts please
Below is a table of the top 2019 flight training occurrences:
| | | | |
| --- | --- | --- | --- |
| Flight training occurrences 2019 | Total | Dual | Solo |
| Engine Failure or Malfunction | 16 | 16 | 0 |
| Loss of separation or near miss | 14 | 9 | 5 |
| Hard landing or ground strike | 10 | 7 | 3 |
| Runway loss of control | 9 | 1 | 8 |
| Aircraft preparation | 6 | 6 | 0 |
| Landing gear issues or failure | 5 | 4 | 1 |
| Bird Strike | 4 | 4 | 0 |
| Loss of control | 4 | 3 | 1 |
| Runway overrun | 2 | 1 | 1 |
Breaking these down, pre-flight responsibilities and aircraft preparation play a large part in the engine failures and malfunction occurrences above and these were covered in last week's National Safety Month program so let's take a closer look at the occurrences in bold above and Loss of control accidents whilst under training.
We've talked a lot about Loss of Control over the last few years and for good reason. Firstly, year after year it ranks as one of the highest overall reported accident type and takes in a myriad of areas from stalls, spins, spirals and other upper air upsets which are classified as general Loss of Control (LoC). These accidents may have weather, operational or mechanical elements as contributing factors with a majority of these events occurring due to pilot error or mismanagement.
Runway Loss of Control (RLoC) events occur when the pilot fails to maintain directional control on the runway which may include events such as ground loops. Runway loss of control events often lead to a runway excursion where the aircraft exists the side of the runway.
Additional occurrences which may lead to a loss of control or runway loss of control event include hard landings, ground strikes, bounced or ballooned landings, aircraft mismanagement, pilot induced oscillations (PIO), aborted and mismanaged take offs or mismanaged go-arounds.
Firstly, let's look at dual training flights where an instructor was on board the aircraft. Three key areas are worth looking at in the ten reported accidents that were classified as hard landings or ground strikes.
Mismanaged approach
This scenario represents approximately 50 % of dual landing accidents in training. There are many factors that lead to the unstabilised approach and that is to be expected in training where students don't always recognise undesired states, but the key defence here is the instructor. RAAus focussed on this in our 2018-2019 Instructor Professional Development series and highlighted the importance of early staged intervention and error recognition when close to the ground, where the balance between learning opportunity and safety is critical. The mantra of "you can always go around" should be the key message we teach and ingrain in students to ensure safe landing outcomes. An important component of the mismanaged approach is the lack of awareness of sink. Our human bodies are very poor at picking up vertical movement unless it is extremely aggravated like the roller coaster and as a result, landings with unarrested sink rates often result in bounces or balloon and PIO's. RAAus has placed a renewed focus in flight assessments in this area with undetected sink rate a key symptom in the developing stall scenario and landing is a key phase of flight where there is likely to occur. This was the primary factor in most of the above accidents.
Pre-existing damage
This is a latent condition and is more common than you think in training aircraft. There's a saying that "metal never forgets" and this is particularly true for undercarriages in training aircraft. They cop a hard life and in most cases do substantially more take-offs and landings than a privately operated aircraft and as a result are subject to a range of additional fatigue conditions. Two of the above accidents and numerous other current reports indicate this is a significant contributor to landing and taxiing accidents. While that landing you did may not have been that bad, it may just be the straw that breaks the camel's back. Enhanced maintenance and recording of events, disciplined occurrence reporting and vigilant preflight and daily inspections are key defence strategies to prevent these occurrences.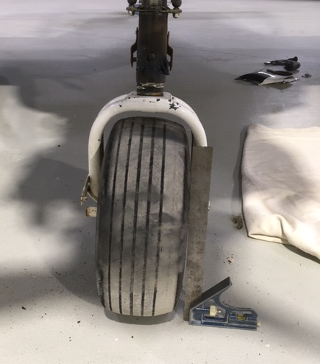 LEFT: During a 100 hourly inspection, a maintainer reported finding extensive damage to a club operated aircraft. Initial damage showed the nose wheel fork wasbent to the right approx. 10mm. Further inspection revealed more extensive damage including multiple cracks in the airframe. No landing incident had been reported and it is unknown how long the aircraft had operated with this damage prior to maintenance. Further flight may have resulted in failure of the nose wheel resulting in significant damage and potential injury.

RAAus reminds members of the importance to conduct thorough daily inspections, to report hard landings and to ensure a maintainer carries out a hard landing inspection to ensure the aircraft is safe to continue operating.
Learning vs Leadership
We touched on this above, but the instructor is the role model in the airborne classroom. Saving a bad landing may show your expertise in the cockpit but evidence shows it often goes wrong when copied by less experienced pilot's. A trickle of power at the right time may save you but it's a late band aid to a situation that should have been identified earlier in the approach. Command decision making is the key here with the instructor leading the way and while perfection is not always possible, good decisions are; and it only takes one of these to avoid those holes lining up in the Swiss cheese sandwich. Understanding of human factors in the landing phase is important and worth discussing both in the training pre-flight brief and debrief.
Going it alone
So now let's look at the remaining LoC accidents. These occurred where a student was conducting solo flight under instructional supervision. These accidents outnumbered dual training accidents. Clearly there are a number of factors at play here with inexperienced pilots under increased stress but half of these accidents were related to environmental conditions. One landing in a strong crosswind and another rushing the landing due to deteriorating weather. A further accident occurred during taxiing after landing where the aircraft was flipped by an extreme gust.
The RAAus Syllabus of Flight training defines competency standard 3 is the ability to perform the activity without instructional assistance under carefully supervised conditions in a safe environment. It is essential that when sending students solo these factors are considered and applied in solo flight planning. A factor worthy of mention in 2019 was the extraordinary weather conditions that were presented due to extreme temperatures, exceptional convection and unrelenting fire conditions creating abnormal weather effects.
The remaining accidents were predominately Pilot Induced Oscillations (PIO's) which were mentioned previously but suggest an increased training focus needs to be applied to this condition in terms of basic upset recovery. The point being that PIO's seldom get better as the pilots' reactions are increasingly out of phase with the aircrafts flight path.
Notwithstanding the above, the clear message here is that instructors need to take the responsibility for solo flight assessment and approval and carefully monitor conditions based on a clear understanding of weather and human factors and confirm that students understand the consequences of control mismanagement in the critical phases of flight.
Summary
The analysis of training accidents above clearly reinforces the importance of correctly ingrained primacy in initial flight training, taking into account early decision making, high levels of situational awareness and instructor command management. These key elements provide the greatest opportunity for safe and successful flight training environments. Solo flight is where these ingrained disciplines are put the test and it is imperative that external factors are well managed to maximise learning opportunities while managing the inherent risks.
Article by Neil Schaefer - Head of Training Development