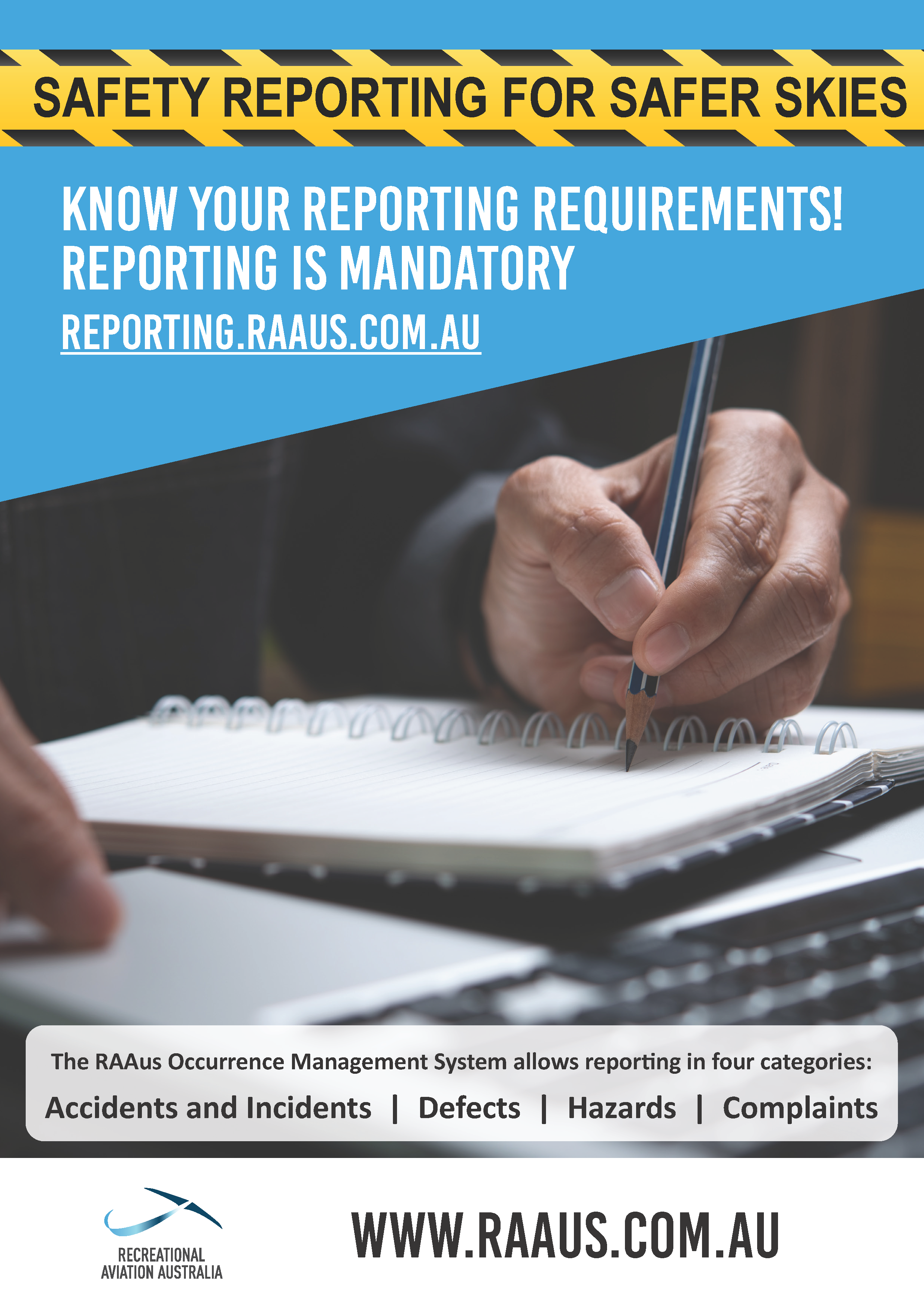 Defect Reporting
Reporting lies at the heart of RAAus' Safety Management System. Reporting offers RAAus valuable data to review occurrences, monitor trends, assess safety performance and to set safety promotions for our members. The information presented and the presentation topics during National Safety Month are all supported by safety data collected from reported occurrences.
As a maintainer, defect reporting is a mandatory requirement and can be submitted via the RAAus occurrence management system at REPORTING.RAAUS.COM.AU!
---
Aircraft maintainers, including owner maintainers and higher maintenance approval holders, have an obligation to report identified defects.
The RAAus Technical Manual outlines maintenance reporting requirements and defines a defect as any fault in the design, function or qualitative characteristic of an item fitted to an aircraft which differs from the specification, the drawing, or recognised standard of good workmanship for that item other than that classified as fair wear and tear within manufacturer's limits. Maintainers also have the requirement to report where a maintenance schedule or flight manual is considered to be deficient.
An example of this may include identifying that a wheel rim on an aircraft is cracked. Though this may be the first time you have witnessed this issue, you should still submit a defect report. Nationally there may be a problem that we are able to identify through multiple receipts of similar reports, however if this issue is simply fixed without reporting to RAAus then we are unable to communicate the issue to other members. Instead, we may only become aware of it, when on another aircraft the part fails on landing, resulting in an accident and potential injury.
RAAus communicates known defects to aircraft manufacturers, and where required may issue an airworthiness notice to aircraft owners / operators and other interested persons, advising them of a known defect or deficiency and rectification action.

Reporting of occurrences allows RAAus to provide safety promotional material to educate members including safety communications, occurrence summaries and allows RAAus to identify safety focus areas, such as those used during National Safety Month.
Failure to report deprives RAAus and other members of the opportunity to learn in order to prevent similar events from occurring in the future!

National Safety Month would not be possible without the support of our sponsors: