Fitness to Fly
Are you fit to operate an aircraft?
One of the benefits of being an RAAus member is the drivers licence medical standard which doesn't require the need for a costly aviation medical, however, just because it may be simpler to achieve the medical standard doesn't mean that pilots don't have to be responsible for ensuring they are fit to fly prior to each and every flight!
RAAus requires that recreational pilot certificate (RPC) holders must have a health standard equivalent to that required for the issue of a private motor vehicle licence in Australia. If you are under the age of 75 without any health conditions then this simply requires a medical declaration, however, members must provide an annual statement from their doctor (GP) confirming that they meet the health standard if they have any of the following conditions:
Are 75 years of age, or older
Epilepsy
Diabetes (Type 1 or 2)
A heart condition / disease or paralysis
Mental illness (medicated of otherwise)
Any other medically significant safety related condition
It is the responsibility of the pilot to ensure that they have provided RAAus an annual declaration from their doctor (GP) if any of the above conditions apply, prior to flight.
In addition to the above, any condition or restrictions that apply to a member's drivers licence or medical certificate must also be complied with when operating an RAAus aircraft.


When do I have to provide additional medical information?
If at any time a pilot certificate holder has a medically significant condition that is a safety-relevant condition that lasts for more than seven days, that person must not exercise their certificate until such time as they have provided RAAus with a statement from their doctor (GP) that they meet the RAAus health standard.


Prior to each and every flight, pilots must ensure they are fit to operate an aircraft
Fitness to fly can be assessed by reviewing the IMSAFE checklist prior to each and every flight: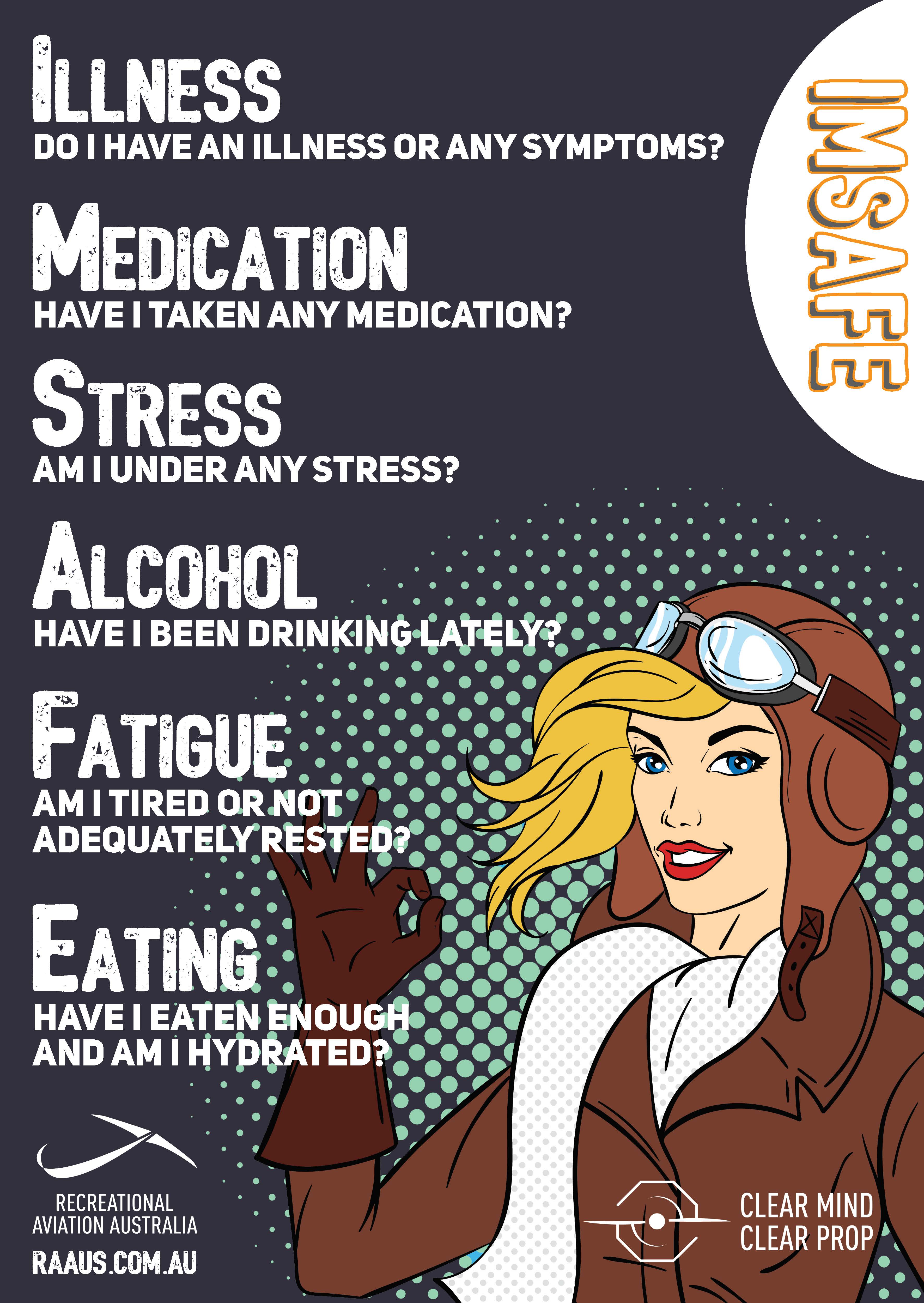 Watch the video below for more information on the IMSAFE checklist and considerations for both pilots and maintainers