RAAus Scholarships
2021 – 2022 RAAus Scholarship Program
For many years the GYFTS Scholarship program has provided seed funding to hundreds of young aviators and it is something RAAus is very proud of.
Applications for the 2021 round of scholarships have now closed.
We are currently exploring additional ways we may be able to support budding aviators and our flight training school network. As we make decisions in this space we will be sure to share them with our members through our E-News and social media channels.
Meet our Winners
Jackson Polinelli
My name is Jackson Polinelli and I was very fortunate to receive a RAAus Scholarship in May 2016. I was just 15 years old at the time and in Year 10 at school and the scholarship helped fast track my flight training with my local flight school on the Sunshine Coast in Queensland.
I started my flight training at 13 years old and trained throughout high school when my single Mum's finances permitted, hence another reason the Scholarship was genuinely and sincerely very much appreciated. She has been my biggest supporter and continues to support me to this day wherever she can.
In years 10-12, I travelled daily from the Sunny Coast to Brisbane to attend Aviation High School, where I studied and immersed myself in all things Aviation. In Year 12, I received the 'Airman of the Year" Award, a sought after Award for aspiring young Pilots as well as the 'Aircraft Maintenance Engineering Excellence' Award for the Cert 11, I completed in Aircraft Line Maintenance with Aviation Australia whilst still at school.
Since year 12 I've continued to pursue a career in aviation. I'm currently undertaking my Commercial Pilots Licence with Air Gold Coast and still commute back to the Sunny Coast where I live while studying. I continue to love my flying and it's all I've ever wanted to do. I'm now 20 years old and looking forward to achieving my CPL in approximately August this year and can't wait to enter the workforce as a Pilot. I hope and pray there will be a position for me out there and I'm willing to do what it takes to open those doors to my first job. Thank you again RAAus, without your generous financial assistance, I may not be in the position I am in today. I will be forever grateful.
Chris Burdett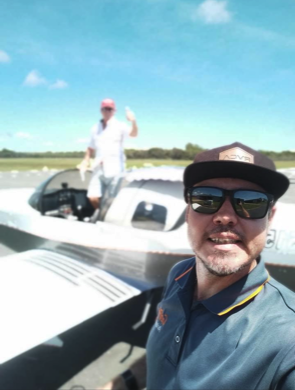 First, thanks again so much for the instructor scholarship. It's really helped me achieve my dreams of teaching like-minded aviation students how to fly. I'm now a flight instructor at GoFly Caloundra and loving every minute of my journey and passing on my passion with my students.
I had my trial flight with GoFly around two years ago and re-sparked a passion I had for flying as an eight year old with my best friend. His dad was a pilot and took us flying all the time. It was after the TIF that I knew I really wanted to learn how to fly and see what I could achieve.
After completing my RPC, I achieved my passenger endorsement, Nav, RU, AP and converted over to RPL with my Spin, Aerobatics, low level aeros and controlled airspace. I had the opportunity to compete in the QLD state aerobatic titles in 2020 and came away with third place at around 100 hours. I'm super keen to grab another trophy at the Nationals this year. After that, I kept building hours to get to the stage that I could commence my dream of completing my instructor rating. I found out about the RAAus scholarships and thought I'd apply! I was over the moon when I got the letter from RAAus confirming I was accepted into the program.
I'm currently studying hard to convert my RPL to PPL so I can achieve my senior instructor rating and be a great asset for GoFly.
Flying is now my life. The thing I love most is the different perspective you have on life from a high altitude. Somehow all your worries seem to slip away as soon as you jump in the cockpit and the freedom you get is on another level compared to anything else. My greatest joy though, lies in showing others, friends, family and students a new perspective on life. The smiles on their faces give me a buzz I will never let go of. Really looking forward to my aviation future and thanks again RAAus for helping me on my journey!