You Spin Me Right Round, Radial, Right Round
We often speak of the radial engine design as a nostalgic reflection on aviation's 'once upon a time', with loud start-up pops and bangs, some aerobatics and enough exposed metal to make you bite your bottom lip. But there's been some recent modern developments that have the SportPilot team weak at the knees, and it's a pack of Aussies leading the charge.
Back in 1901, an American engineer known as Charles Matthews Manly developed the world's first water-cooled radial engine, adapted from the existing rotary engine, creating a 52 hp gasoline-fuelled revolutionary masterpiece. It was a bold new design…that failed to fly. Twice. In 1903-1904, Jacob Ellehammer applied some motorcycle science to a new engine design and developed the first air-cooled radial engine; a three-cylinder model that led the way to five-cylinders a few years later, which then developed into a new world of combustion designs.
Before the gas turbine engine was developed, radial designs were appealing due to their reliability and power. Offset pistons meant that each fire on the fourth stroke would counter the vibration and create a harmonic balance, making them inherently stable without too much need for dampeners and counterbalancing. Plus, more power meant more applications, paving the way for bigger aircraft like the B-25 Mitchell Bomber and the M3 and M4 tanks in WWII (which used diesel variants of the original design). The vertical engine shape created a larger tank silhouette though, so the radial engine's days were numbered as engineers put pencil to paper, attempting to create more streamlined machines.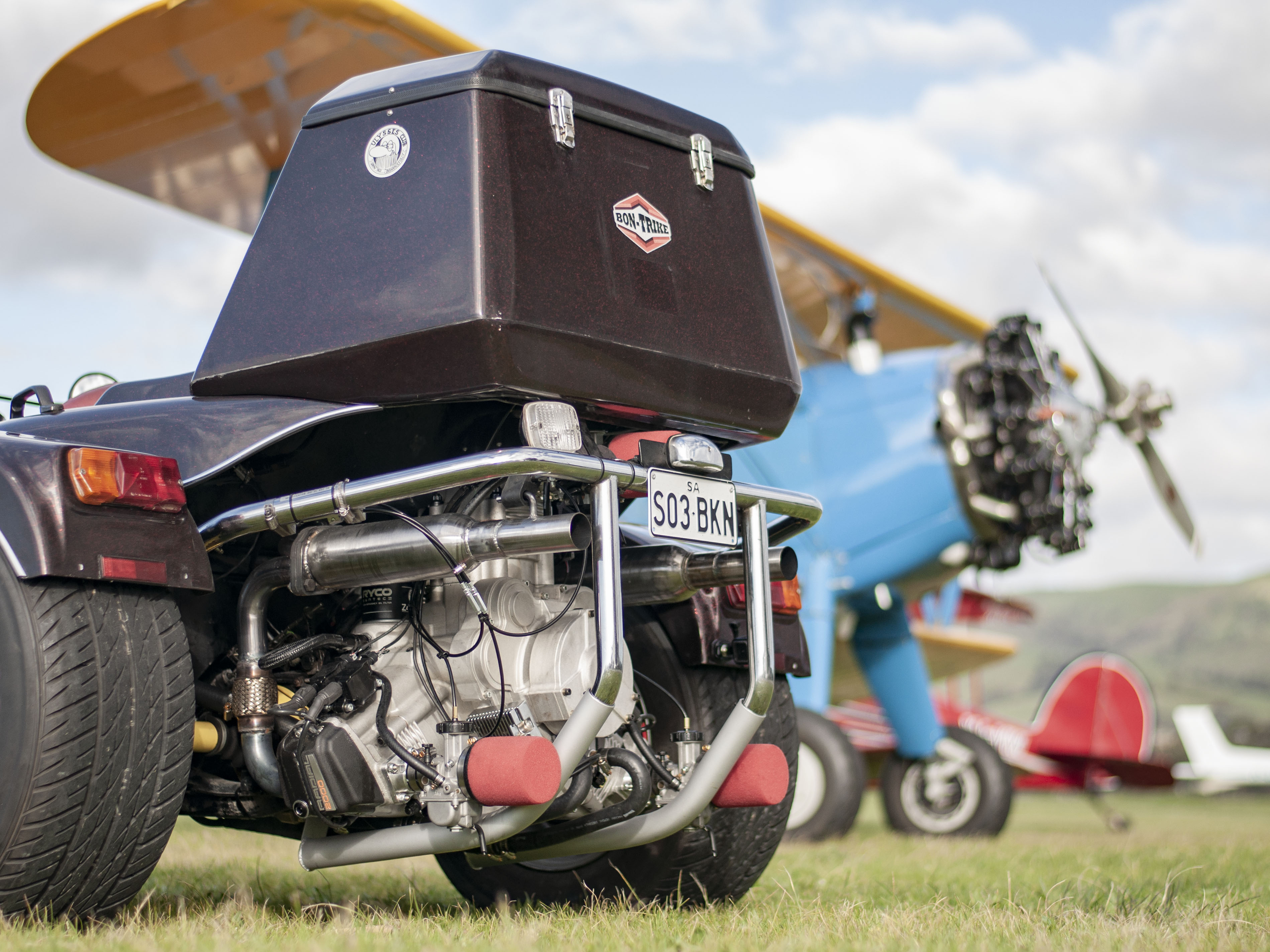 With our brief history lesson out of the way – and skipping just a few decades – along comes Nick Mebberson, a mechanical engineer from Bespoke Engineering out of little ol' Adelaide. Bespoke Engineering design and develop componentry for aerospace, mining and motorsport applications. Nick has kept clear of the fuel fumes though, developing a modernised radial engine concept that might just tickle your tailwheel.
Nick turned up at Harrop Casting Technologies in 2015 and met Loui Burke, a British businessman and fellow mechanical engineer operating in Adelaide. Nick presented a three-cylinder radial design that immediately had Loui's business-savvy mind flapping around like elevators in a stiff breeze. "I was immediately interested. I just got it," Loui said as he told us the story. "There's nothing like this on the market, it's a classic engine design with modernised technology and an endless list of configurations and applications. It's powerful, beautiful and has the charm of a radial engine".
So, there it was. Nick and Loui joined forces and Radial Motion was born, all from an idea that had been rolling around in Nick's head for more than 20 years. With good fortune beside them, the partners found additional support in the Sir Ross and Sir Keith Smith Fund, dedicated to advancing the science of aeronautics in South Australia. Suddenly, the team had grown to 12 engineers and technicians, working over the last three years to help make the dream happen. In an industry very much caught up in rules and norms, the Radial Motion team has managed to break through with something truly revolutionary. It's likely due to Nick – whose background is in machinery – always looking at the project as a machine and not simply an engine. When an engineer says "You can't do that, we've always done it this way", Nick responds with "Well, we're going to do it differently".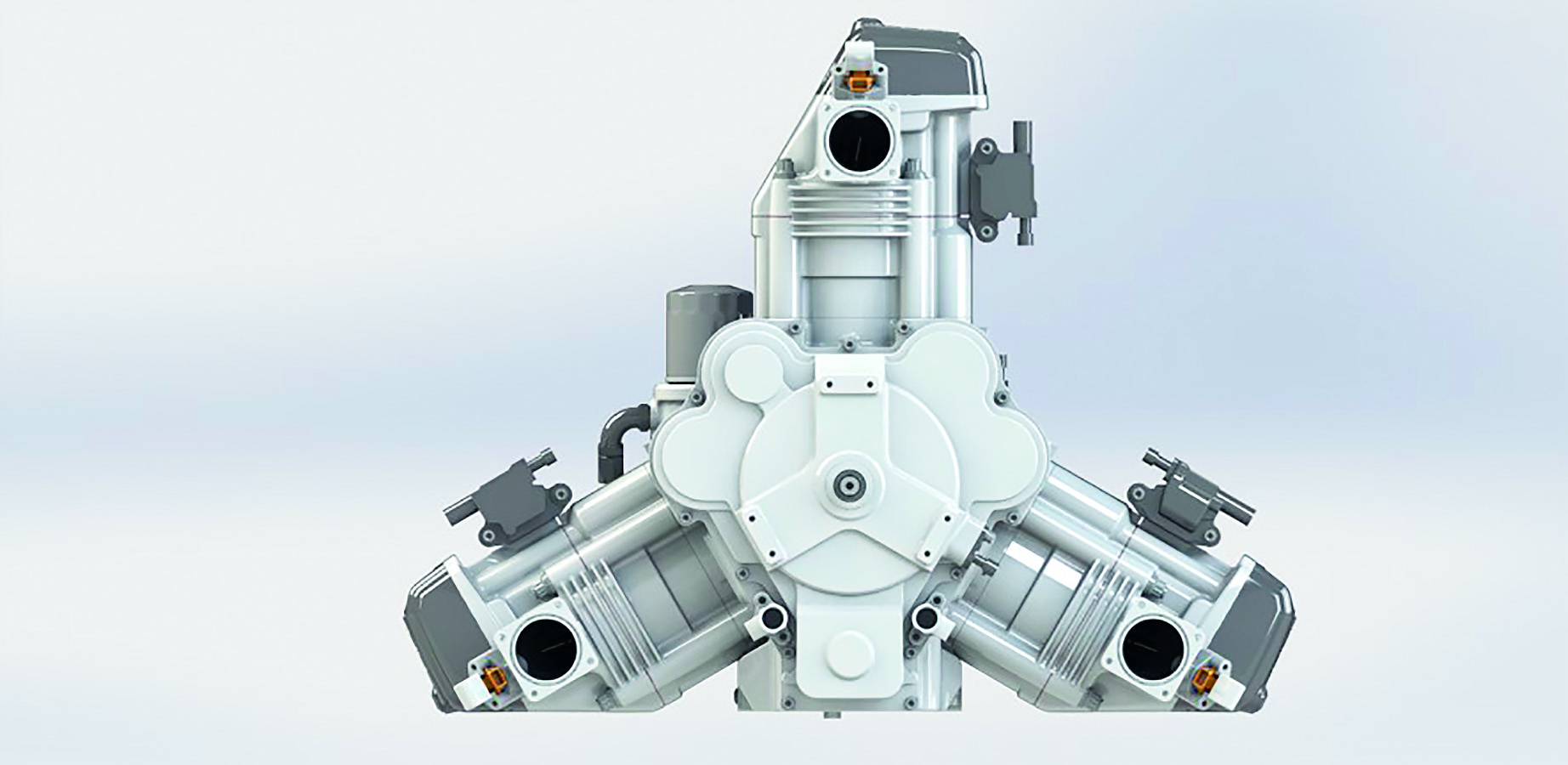 To those readers scratching around for their next AvGas fix, let's get some numbers out of the way. Here goes… She's a three-cylinder 120°/120°/120° radial, 2,000cc, two-valve (2-inch intake & 1.5-inch exhaust) pushrod engine with a separate cam for each head (unlike a traditional radial), with an oversquare ratio of 99mm bore and 86.5mm stroke. The conrods fit to a common journal on the crank – unlike traditional radials which have master and slave cranks – making the engine very compact. It runs a dry sump with multiple Gerotor scavenge pumps. Twin spark is standard. She can be fuel injected using a Motec ECUs or run with ITB's or carbies. The heads are water or air/oil cooled for overall power of 130 NA or 150+hp boosted at 5,000 rpm. And she'll take considerable boost, supercharger or turbo, for those daring to push her to the limit.
The engine has a radial layout, but not with the traditional master crank/slave rods that are used in typical aircraft radial engines post-1920s. Instead, Nick's team are using a common crank journal, like a V-twin, which makes for a 'compact' radial (the footprint is inside that of a VW Type 1). The cylinders are in one plane which means that they get equal (air) cooling. The case is one-piece cast (billet in the prototype), which is simple and strong and will not fret like conventional 2-piece cases under high load. Access to camshafts and internals is easy without stripping the engine down. The crankshaft is one piece, 4340 steel. 
If you don't already have the tissues out drying your eyes, wait until you hear about the engine applications so far: a three-wheel motorbike, a Porsche 356, a VW Kombi and an X-Air. They have a radial-powered Beetle in the Adelaide Tarmac Rally and in March 2021 they plan to put a radial in a Formula Vee and go for 150 Mph on the salt at Lake Gairdner. They've literally drag raced the motorbike on an airstrip with a 1940 Boeing 75 PT-17 (thanks to ex-RAAF and Cathay Pacific Captain, Jim Twiss). Automotive use of radial engines has been limited until now (if you've ever come across a 1935 Monaco-Trossi race car your jaw might hit the floor) but this engine has enough potential to make radials as 'normal' as snags on the BBQ at a weekend fly-in.
But what about aviation? Well, the road configuration makes the most sense for testing, so some of the specifications will change for the aero option. The X-Air owned by Bespoke Engineering has just received a new set of skins from Wingtech and flown home to Aldinga (SA) from Rylstone, New South Wales, for testing. Flight testing is planned for 2021, with a target of 1,000 hours in the air and 1,000 + on the dyno.   Fuel injection has a mechanical backup, and a planetary gearbox running a maximum 5,000 rpm take-off and 4,000 rpm cruise for the first tests. It will run oil through the water galleries with a separate low-pressure pump for oil and air cooling, and there's a new throttle body in testing. But the real kicker is this: you get 150 Australian Made horsepower for around $30,000, weighing in at about 75kg. The engine will be available as pre-built (and dyno tested) or a kit, which even a first-timer could assemble in a weekend, albeit with a few bottles of liquid-encouragement the weekend prior.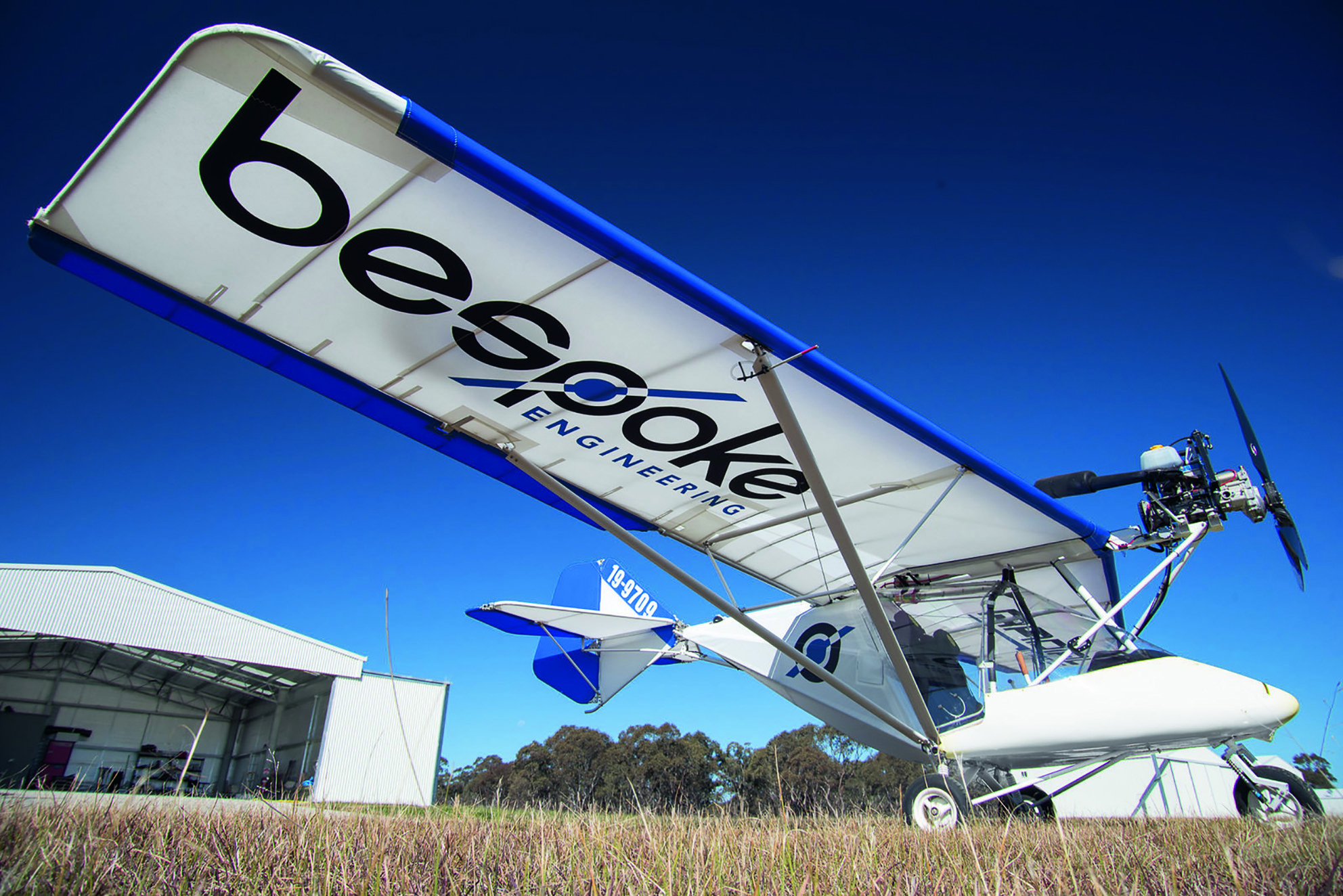 What about spare parts, you ask? The engine utilises GM LS (V8) components: valves, springs, rockers, pistons, controls and common Bosche sensors. affordable and commonly available parts, and they've already been tested across millions of miles. A new set of rings is under $100, compared to the $1,000+ price tag for common four-cylinder engines operating in the same recreational aviation space. Plus, she's fully-contained as an engine, so no leaky hoses! Nick had previously run his own S10 and knew about the pain.
Another key part of Nick's design is longevity. He has a pet hate for the automotive industry and their disposable engine designs. At 200,000 clicks, it's 'in the bin' for many modern automotive engineers. Dissatisfied with this mindset, Nick looked for more life by designing all the wearable parts to be easily replaceable and 50+ year lifespan should be the absolute bare minimum. The engine is simple and easy to work on, has a high power-to-weight ratio, boasts an easy-fix approach and is built to last (built to ASTM F2339-19A).
The first engines, built for automotive applications, are scheduled to be available in the first half of 2021, so if you have a VW, off-road buggie, trike or 2-seater sport car and you're looking for an engine solution, you might want to put your name on the list. Think in terms of the $25,000 mark and 80kg with cast iron liners and a fly wheel. If 2021 aviation testing goes well, the aero option won't be far behind. Nick and Loui are putting in the infrastructure for 1000+ engines per year in their 1800sqm factory.
Radial Motion are working with David Owen at Fleurieu Gyroplanes for a radial Gyro installations and Graham Smith of Aerofrom Australia for installation in an all metal 194s style round engine kit plane. They'll be looking for other early adopters (land and air) and during 2021 there will be employment opportunities for engine builders and machinist's (including for LAME/L2+). It's a good news story all-round.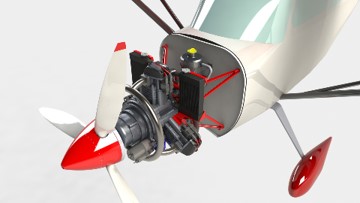 If you want to modify the application, the team at Radial Motion want it to be easy. "When you want to modify it, it should be a bit like Lego," said Nick. "You shouldn't be diving through obscure online forums looking for answers, it should be 'You want 300hp? Here's what you need!'". Nick isn't shying away from gyro-mustering applications or anything else – he's in pursuit of a wide range of applications, truly believing in his design. Since engine components are from GM's Godfather engine, and the Radial Motion team's mentality is 'why not?', we can still expect to see some interesting applications to come.
The thrust line is in the middle, so future developments could include a V-Twin and bringing the thrust line higher than the centre, then suddenly 1400CC, 120+hp and 55-60kg options would make sense to replace with 2 strokes for drifters and motorbike applications.
Excited, aren't you? It's an engine that's powerful, fun, sounds awesome and will put a smile on your face. It's a testament to Australian design and is bound to prick up the ears of any engine enthusiast. Sure, Australian manufacturing isn't what it once was volume-wise, but to take a 100-year-old development and revolutionise its design, potentially changing the entire aviation (and automotive) industry…it just goes to show that Aussie ingenuity really is alive and well.
Follow Radial Motion on social media @radialmotion on Facebook & Instagram.
www.radialmotion.com.au