The Outback Loop
Words & Images: Roger Duance, Merry Canavan, Ron Hoey and Renee Finn
Flying recreational aircraft over remote areas of Australia can be challenging and considered risky; but two South Australian couples found that with careful planning, attention to detail and aviation common sense, a trip to Birdsville and beyond turned out to be among the highlights of their recent flying adventures (including Victor 1, Sport Pilot September 2014).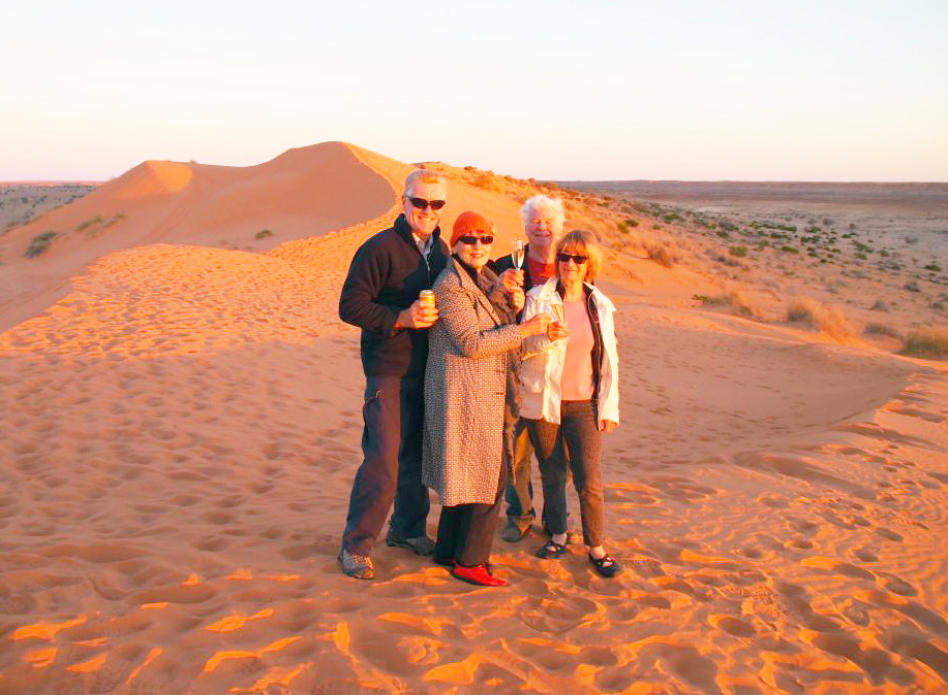 In mid August, a Foxbat A22 and a Savannah VG XL, both Rotax 912 powered, flew from a private strip in South Australia to the outback and back. Weather was a welcoming 20-26 degrees and, apart from a problem with a starter motor, there were no other issues.
Planning
A lot of time was spent discussing and organising the route, itinerary, accommodation, maps, GPS, OzRunways, coordinates, fuel availability, radio frequencies, CTAF, AWIS, mobile phone coverage, ASIC, emergency planning, first aid kits, beacons, food, water, spreadsheets for distances between stops and alternative routes.
Departure
We departed from RoMe, Roger and Merry's private strip 12nm east of Truro in South Australia and enjoyed tail winds of about 10kts most of the day.
A stop at Hawker was less enjoyable because of the very cool and windy conditions, but the track to Marree amazed us by the soil markings, landscape and flora. A pre-arranged fly over the Marree pub alerted Phil to pick us up in his mud
covered ute used in the movie 'Tracks'. Phil and Maz are the new owners of the pub and offer great accommodation and meals. We chose the transportables, with ensuite @ $140 per night.
The pub dining room offers detailed information on Tom Kruse and the Marree to Birdsville mail run during the 1930s as well as good meals. Locals in the front bar provide endless outback stories as long as you want to listen.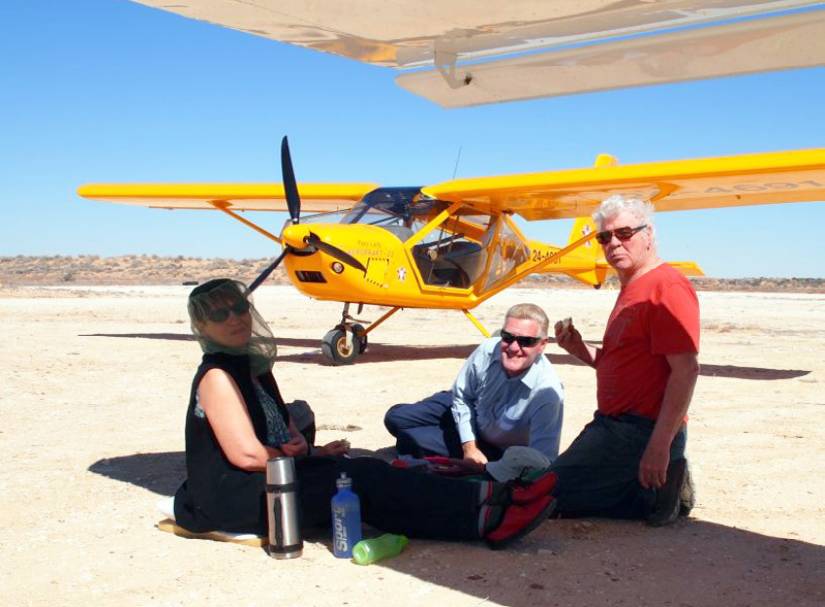 Birdsville
The next day we departed Marree after refuelling with Avgas at $2.90 /L. We chose to follow the Birdsville track for safety reasons. We normally flew at 500ft AGL and were within gliding distance of reasonable landing spots virtually all of the time. We were surprised at the amount of road traffic, utes, 4WDs and caravans, all showing us wind direction with their dust.
We stopped at the rocky strip at Mungerannie for a lunch break, the broad wings of the Savannah providing welcome shade as the day warmed. The road house is within walking distance of the airstrip, but we chose to picnic on the strip.
As we flew towards Birdsville, we deviated to the left side of the main track and flew via the Inner Track (only usable by vehicles when dry) between the Sturt Stony Desert and the Strzelecki Desert. We averaged 88kts with no wind and arrived at Birdsville early afternoon. Birdsville is an ASIC controlled airstrip, immediately across the road from the hotel, with a fence in between.
We remain unconvinced that Birdsville is a security risk. We took the Big Red 4WD tour. Big Red is a sand dune 35km west of Birdsville and, at 40m high, is the largest of more than 1,100 parallel dunes which cross the desert. We spoke with many 4WD drivers who had crossed them all.
We met two couples in Birdsville whom we had previously met at Marree. Tales of their rough ride over the Birdsville Track were met with the knowing smiles from we aviators. Their rough ride took them seven and a half hours; our smooth one took 3.3 hours. The Birdsville Hotel is part of the outback loop, a sister hotel to Innamincka. It is $165 per night with spacious, clean rooms.
As part of our planning, we carried empty jerry cans which we used to refuel with Mogas @ $1.85/L (Avgas was $3.15/L) from the petrol station which is over the road from the airport. Before leaving Birdsville, Merry, who comes from a horse racing family, was able to get a photo of herself holding the 2014 Melbourne Cup, all $185,000 worth. The cup was there as a part of a country-wide tour before the race.
Innaminka
The flight to Innamincka was relatively short (2.1hrs) although we had a 10kt headwind. Sand, sand and more sand over the Strzelecki Desert.
We landed on the Township strip (YIMT) right on the edge of town, rather than the larger YINN, which is further out, but they can easily be confused. YIMT is in excellent condition, but the approach from the south is over a valley which can
play tricks on your altitude perception on short final - beware.
We walked the 1km downhill to the hotel because there was no phone coverage and the usual flyover didn't work because Rotax engines are so quiet. The modern hotel offers excellent food and accommodation ($160 per night) with Mogas available @ $2.05 (the most expensive Mogas on the trip).
After a leisurely breakfast we were given a ride to the strip, refuelled and flew to the Dig Tree which a scenic 19nm flight following the Cooper Creek, which forms from the flood waters coming down from Queensland. The Dig Tree is the
famed site where Burke and Wills were stranded after travelling north for four months. There is a very informative shelter there, an entry fee of $11 per car/aircraft and good strip within walking distance of the tree.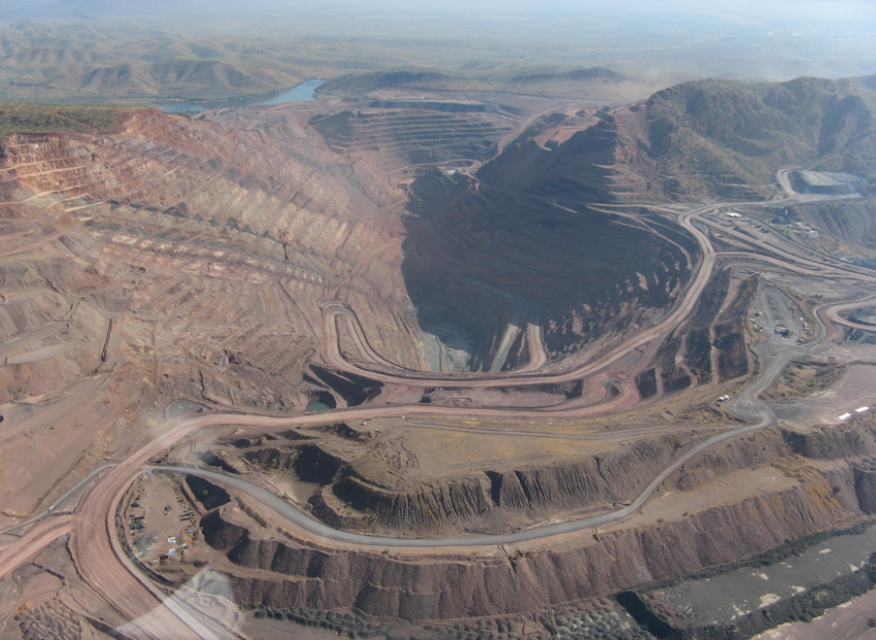 White Cliffs
We flew over the Strzelecki Desert to Cameron Corner which is at the junction of the three states (SA, QLD, NSW) and where there is a good strip. From there we flew over horizon-to-horizon oil exploration tracks and increasingly better countryside, with more stock and wildlife to be seen as we travelled south.
While we waited for transport at the White Cliffs tarmac, an RFDS Pilatus arrived to retrieve an injured motorcyclist who had hit an emu. The nurse waiting with the patient rang Geoff at the White Cliffs Hotel Motel, who hadn't heard us
fly over. Transport into town soon arrived. The motel @ $100 per night provides basic clean accommodation and a friendly front bar. Geoff loaned us a car to go touring the town.
On start up the following morning, the Savannah decided not to play - the starter had failed. So most of the day was spent doing a temporary repair with the very helpful assistance of Barry, a local aviation enthusiast, who gave up a day working his opal mine to make sure we had every tool we needed. Fortunately we had Roger's L2 skills and Ron's experience from building the Savannah, combined with Wayne Johns' advice on the other end of the phone. We had a workable starter by late afternoon but took our anti-get-there-itis pills, because there was some doubt we could safely make the next leg before
last light and decided to leave the next morning.
The long steady flight home to RoMe via Menindee was done in one go so we didn't have to shut down the Savannah, just in case. We stayed overnight at RoMe and then the Savannah flew on to Wayne Johns' nearby property for a replacement starter. 
Facts
Fuel was Mogas except from Marree where Avgas was the most expensive for the trip. Mogas surprisingly was relatively cheap at Birdsville, more expensive elsewhere.
Total flying time for the trip was 17 hours and fuel consumption was 17 litres per hour for the Foxbat and 19 litres for the Savannah.
During each leg we reported to one another via the chat channel every 10 minutes or so. We monitored the past and next CTAF frequencies and the area frequency as appropriate, giving us a good picture of what was happening around us.
Lessons Learned
Prepare and plan in detail. Don't rely 100% on your GPS (we each used one as well as Oz-Runways on the iPads). Although  GPS and Oz-Runways functioned perfectly for the whole trip, keep an awareness of where you are on a real map in case of GPS blackouts.
We did not have mobile phone coverage at Marree or Innamincka but we did at White Cliffs when we needed it. We found different phone plans gave different service, even two Telstra plans, where one functioned but the other did not in remote areas. Check this out before the trip.
An outback flying trip can be very rewarding and a fun experience.