Stampe On A Diet [SportPilot 74]
Constructed under licence by SNCAN (Societe Nationale de Constructions Aeronautiques du Nord) and the Algeria based Atelier Industriel de l'Aeronautique d'Alger, some 940 aircraft saw op- erational service within the various (North Africa- located) elementary flying schools of the French Armee de l'Air (Air Force), Aeronavale (NavalA- viation) and ALAT/Aviation Légère de l'Armée de Terre. Similar to the pre-World War II A-variants, these C-models were equipped with a 140hp Renault 4-P engine.
Simultaneously the 'Service de la Formation Aeronautique de la Direction General de l'Aviation Civile' (Civil Aviation Directorate's Training Centre) operated SV-4s in their various 'Centres Nationaux de Vol à Moteur' for initial aerobatics and instructor training, spread all over France.
The excellent flying characteristics and easy maintainability of these biplanes triggered the French 'Service de l'Aviation Légère et Sportive'
(Light and Sport Aviation Directorate) to offer the widespread and omnipresent SV-4s to various aéro clubs at bargain prices. The future of the SV-4C as France's dedicated civilian pilot training aircraft seemed settled well into infinity. However, the unstoppable quest for technical and performance enhancement, and the availability of more advanced and better equipped general aviation and training aircraft, quickly made the 'old biplane' too obsolete for training purposes. Luckily, a revived interest in vintage aviation and nostalgic compass and stopwatch-based flying in France and all over Western Europe made the (at that time) low-priced SV-4 variants well-sought and desired flying collector's items for a new generation of private and professional pilots.
Since then the SV-4 community is well-settled within today's European vintage aviation scene with a vast number of aircraft still flying all over Western Europe, witnessed by frequent well-attended Stampe dedicated come-together of SV-4-owners in Belgium and France and attendances at a multitude of local fly-ins. On each occasion, the SV-4s attract a lot of interest from aircraft aficionados and owners alike.
However, the increasing popularity and resultant increase in the purchase price of vintage bi-planes (incl. DH-82 TigerMoth and Bucker Jung- manned aircraft), increasing PPL training costs and operational and maintenance expenses made these aircraft financially out of reach for the average recreational pilot.
These pilots looked for more financially sound hobby flying alternatives, gradually becoming omnipresent in Europe's skies - modern and well-equipped ultralight aircraft.
Since the conception of micro/ultralight aviation in the eighties, the development and variety of aircraft, depending on and fully compliant with the various national regulations, saw the creation of a multitude of companies all offering a wide array of modern, user-friendly, well- equipped ergonomic aircraft at budget-friendly and competitive prices.
In recent years the renewed quest for vintage-like but financially sound ultralight aircraft has triggered various small companies to try and develop, replicas of the old masters. One of these niche market ultralight companies is Belgium-based Ultralight Concept, which has developed the eye-catching SV 4RS replica, based on the original SV-4C trainer.
SV-4RS CONCEPTION
Ultralight Concept and its SV4RS microlight biplane are the brainchildren of Raoul Severin, a former Belgian Army Aviation and Air Force helicopter and fixed-wing pilot. At the end of his active army career, he created his own metal distribution company, also specialising in aviation materials. Raoul's first step in the world of ultralight/microlight aviation was the construction of a Platzer Kiebitz biplane, based on and using the plans bought by Michael Platzer.
Distributing welded steel tubing, usable for Kietibz and other amateur-built aircraft, he quickly became familiar with the needs and desires of a large number (mostly German) ULM affectionados. Once proficient with building self-built barn-made aircraft, the self-builder community slowly shifted to more realistic replicas of existing vintage aircraft.
Sensing a business opportunity, and having good contacts within the German and French amateur building groups, Raoul started to conceive his own ULM/Microlight design. In order to make his business plan and objectives work, he had to choose as the basis for this brainchild an easy-to-build, sleek and eye-catching aeroplane. The decision to use the Belgium-designed vintage SV-4C biplane trainer as the replica of choice was straightforward because a large number of the originals are still flying all over Europe.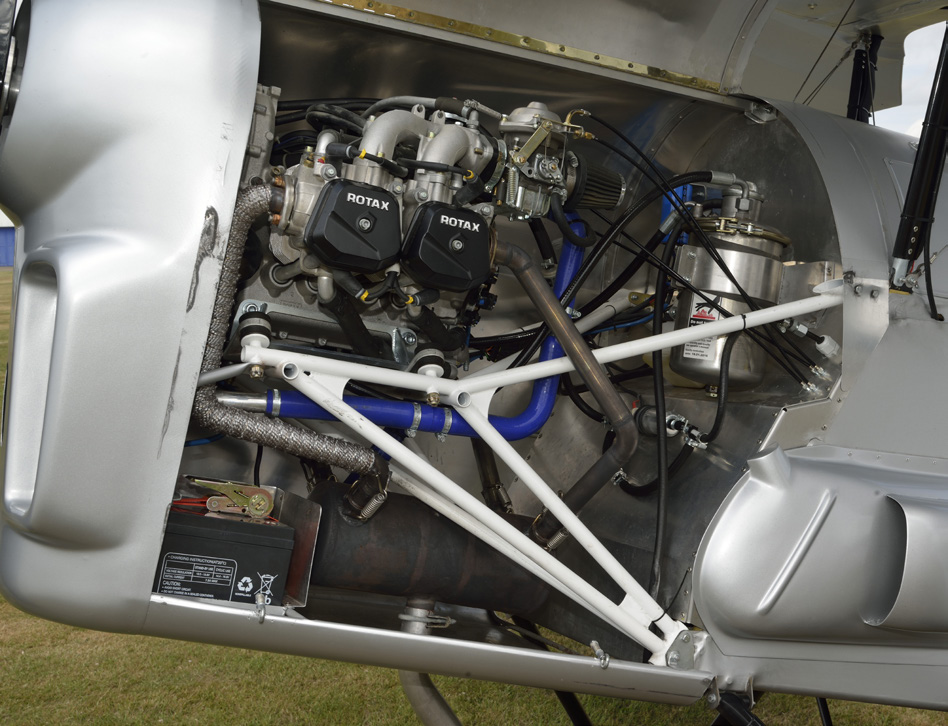 The plan succeeded. The French and German aviation communities, many of which were within driving distance of Raoul's eastern Belgium home base, witnessed an increase in homebuilding activity. By ensuring his design met the prevailing microlight/ULM regulations, he was also able to boost the aircraft's exposure and make it easily sellable and marketable in other (more remote) countries. The kick-off of the ambitious SV4-RS project started in 2007 with the purchase of the original manufacturing blueprints from the Angers (France) based Espace Air Passion museum. Based at Angers Loire airport, this museum houses one of France's most important collections of aircraft manuals and technical archives of unequalled importance within France's vintage aviation community. Gradually deciphering and remeasuring in detail all the dimensions (overall length, wingspan etc) of the original SV-4 biplane, Raoul quickly concluded the widely available pre-welded metal tubes in his possession, used for Kiebitz biplanes, were of limited use in the new design. 
Kibitz-like tubes have a standard length of five metres and the original SV-4C measures 5.15 metres so the only option for Raoul to build and market a 100% scaled ultralight replica was to acquire new sets of metal tubes and send the available undersized tubes to the dust bin. Correctly convinced that a smaller, 97% scaled replica, would deter future customers and home-builders, the decision was quickly taken to focus on a 100% replica and being first in class to offer this type of ultralight in the growing recreational aviation sector. Since Raoul was still part-time active as a military and medical helicopter pilot, the development of the SV4-RS proceeded slowly. In 2013 the first set of the fuselage, ailerons and tailplane were constructed.
Soon afterwards he was contacted by the RWTH Aachen University to allow students attending the university's aerospace syllabus to use various technical aspects of the SV4-RS as topics in their master's degree graduation papers. The influx and technical input of these young motivated engineering students boosted the development process. Various components were designed by the students, they even calculated in advance all the technical and structural characteristics and limits they'd need to supply when the aircraft was submitted for official validation. Finally, in 2015, an engineless SV4-RS with winged fuselage, ailerons and undercarriage was demonstrated at the 2015 edition of the AERO Friedrichshaven (Germany) and Festival International de l'Aviation Ultralegere in Blois (France). In the aftermath of these well-known events, 10 SV4-RS kits were sold at competitive launch prices to trigger the official kick-off of the SV4-RS and gain international exposure within the microlight fraternity. Aero2016 saw the presence of a non-flyable, but complete, Rotax 912 engined aircraft. 
FIRST FLIGHT
Finally, all necessary ground tests were successfully done and the SV4-RS prototype made its maiden flight at the end of 2016 at Büllingen airfield, close to the Belgo-German border. Raoul and his team then quickly began the process of getting the aircraft certified in his markets of interest (Belgium, France, Germany). They aimed at German certification first because that country's requirements were the most complex. They knew once they had successfully passed the German tests, they could use the details as the basis for similar certification processes in other countries. In February this year, two complete spare fuselages and wings were manufactured and tested to their limits in 60 structural tests on the airframe and its components (wing load, airelons, seats, sticks, harnasses, and landing gear). To pass German microlight weight limits, the SV4-RS could not exceed 297.5kgs empty and have a maximum 472.5kgs take-off weight. Initially planned to be +4/-2G capable, the aircraft limits were increased as a result of the tests to +6/-3G. When the ground certification tests were done, Raoul conducted the first test flights, monitored by his German university students and GoPro cameras mounted in the cockpit.
During the Aero2017 event, Ultralight Concept's SV4-RS replica passed its final test, a noise test and received its German permit to fly. The process of obtaining Belgian and French type certifications has also begun with planned acceptances by late 2017.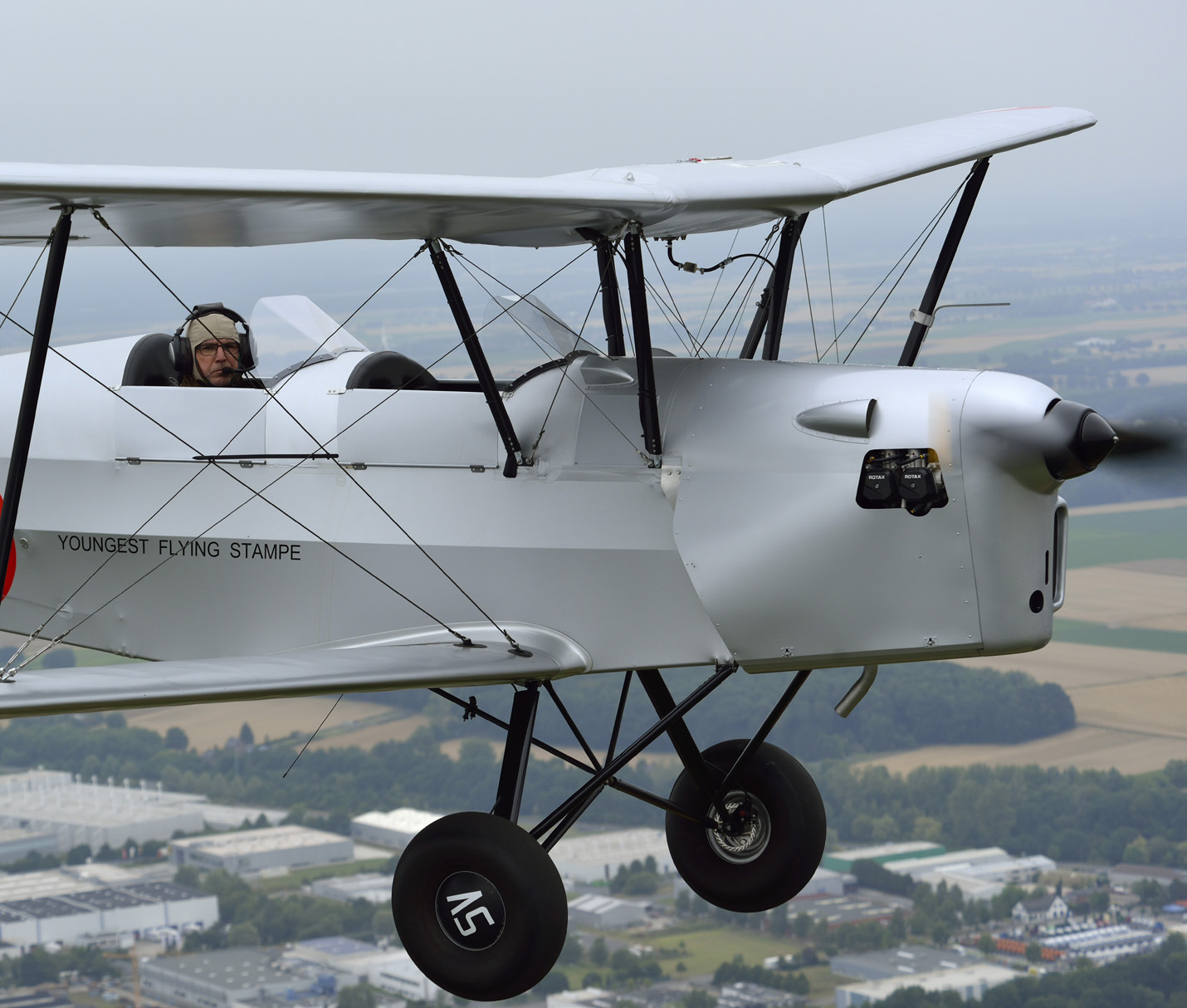 HITTING THE MARKETPLACE
In order to be able to successfully target its SV4-RS as the only full-scale vintage biplane replica on the market, Ultralight Concept created a diverse package, allowing customers to choose from three kit alternatives. Kit One includes all blueprints, documentation and materials. Ultralight Concept would still need to inspect the overall structure of the build before the builder applied the canvas. Once fully assembled and ground tested, the maiden flight would also be flown by a UC representative.
The more elaborate kit Two includes all elements of the first kit plus two four-day long workshops at the UC hangar. During the workshops, clients will be helped to build their own fuselage, four individual wings, wingspars and ailerons.
The third kit option is a complete 'boned' aircraft, still to be covered. The owner has to install his own engine (most likely a Rotax 912), avionics and wiring. Whichever option is chosen, all halfway inspections need to be performed and the maiden flight flown by an Ultralight Concept staff member.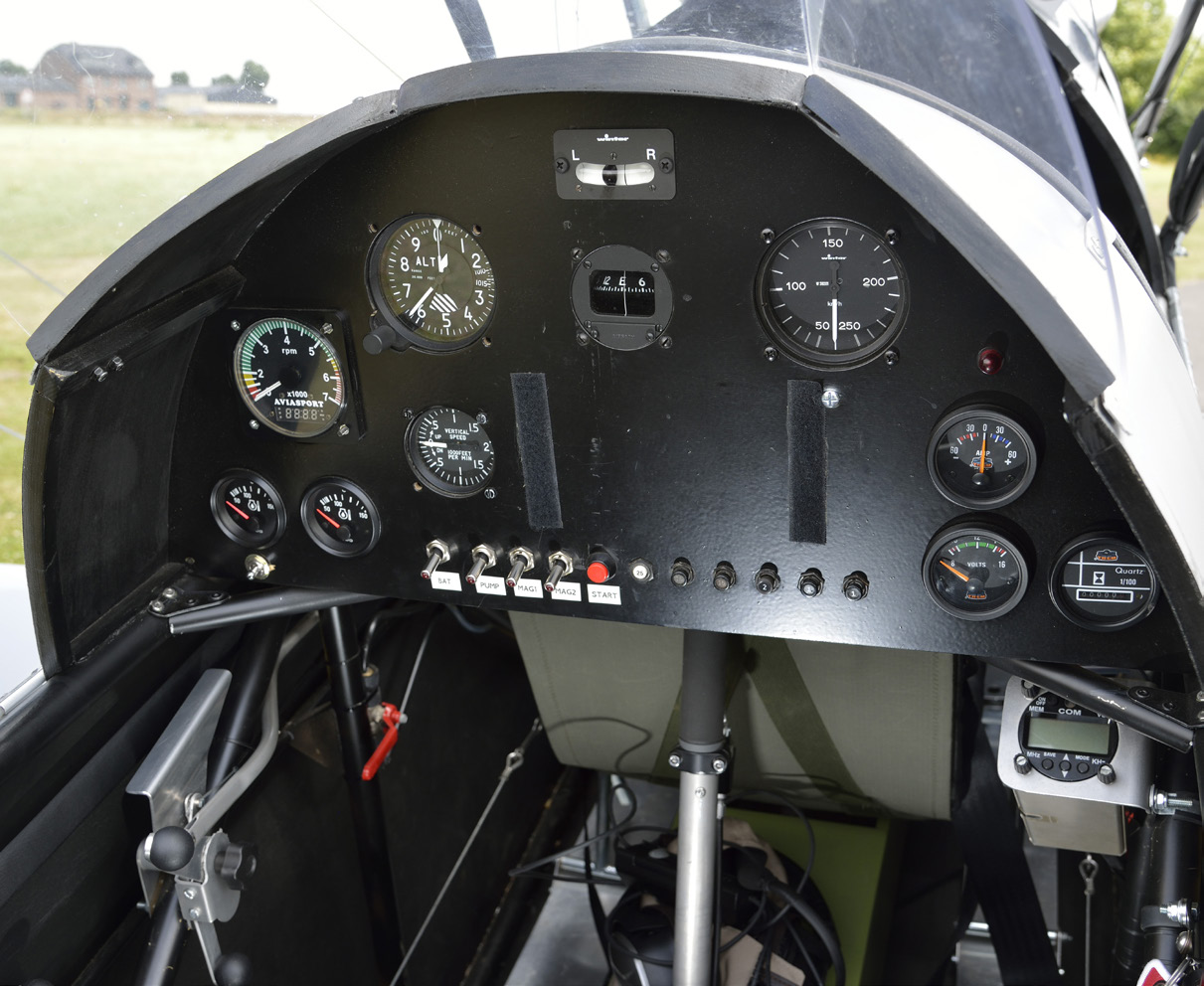 By mid-2017, 52 kits have been sold to clients in Belgium, Germany, France, Poland, Czech Republic and Lithuania.
The builder is, on average, in its early/mid-sixties. With a planned from scratch to first flight-building time of around 1,000 manhours (depending on the kit selection), means the first SV4RS replica biplanes may well take the air in 2019. There are already options available for an SV4B model closed canopy and a glider tow connector. Two other engines will soon also be certified for use.
Time will tell if Ultralight Concept's plan to put a 100% scale vintage aircraft replica into the market, occupied by 'young pensioners with a budget and some handiness', will be an enduring success. The immediate sale of 52 kits may well provide a hint of the answer.