Shepherd's Delight
Words & Images: 
Ed Jones 
On a trip around Australia earlier this year, Teags (my partner) and I needed a place to stay between Port Augusta and Coober Pedy. Roughly in the middle was Mt Eba Station. I heard the owners were keen gyrocopter pilots and as an RAAus pilot myself, we figured it worth an overnight stay to take a peek – little did we know that one night would turn into an extended stay.
 When we arrived at Mt Eba, the station manager Toby was quick to say g'day and offer a hand whilst we settled in and had a look around. It wasn't long before the banter started flowing – Toby knew how to tell a story or two and he knew the area's rich history well. Owners, Pete and Margie do most of the gyro mustering and stock checks, but Toby was starting to gain an interest and learn the ropes. "You need to be multi-talented out here mate, there's no one else out here to solve your problems for you", he said. The historic station is quite literally smack bang in the middle of South Australia. There's even a marker on their property to prove it. The arid sheep and cattle station runs as far as the eye can see and is home to some pretty fascinating history. It was our chance to immerse ourselves in the incredible world of outback farming.
During your stay, enjoy a guided tour of the property and soak up its history. If you join the crew on a water run, you might even spot a flock of emus or mob of kangaroos loitering around the farm. You'll see the original grave sites and hear about the woman who shot her husband accidentally on purpose (it'll make sense when you get there). You'll see how much farming has revolutionised over the years for things even like shearing – plus if you're flying in, there are some amazing sights to be seen from the air – including the Painted Hills and Lake Ayre.
We spent a day with Toby touring around cleaning water troughs, checking stock and fixing the odd bore. Toby would point out a good sheep or cow and tell me what he was looking for. "Meat in all the right places, that one", he said. I pretended like I knew what he was talking about, but in reality, I was in awe of the overall operation and how natural this job was to him. I grew up on farms, but station life is a different ballgame. The weather at Mt Eba is quite consistently sunny (best from March – October, if you're visiting), but I imagine it'd be a very warm and dry summer!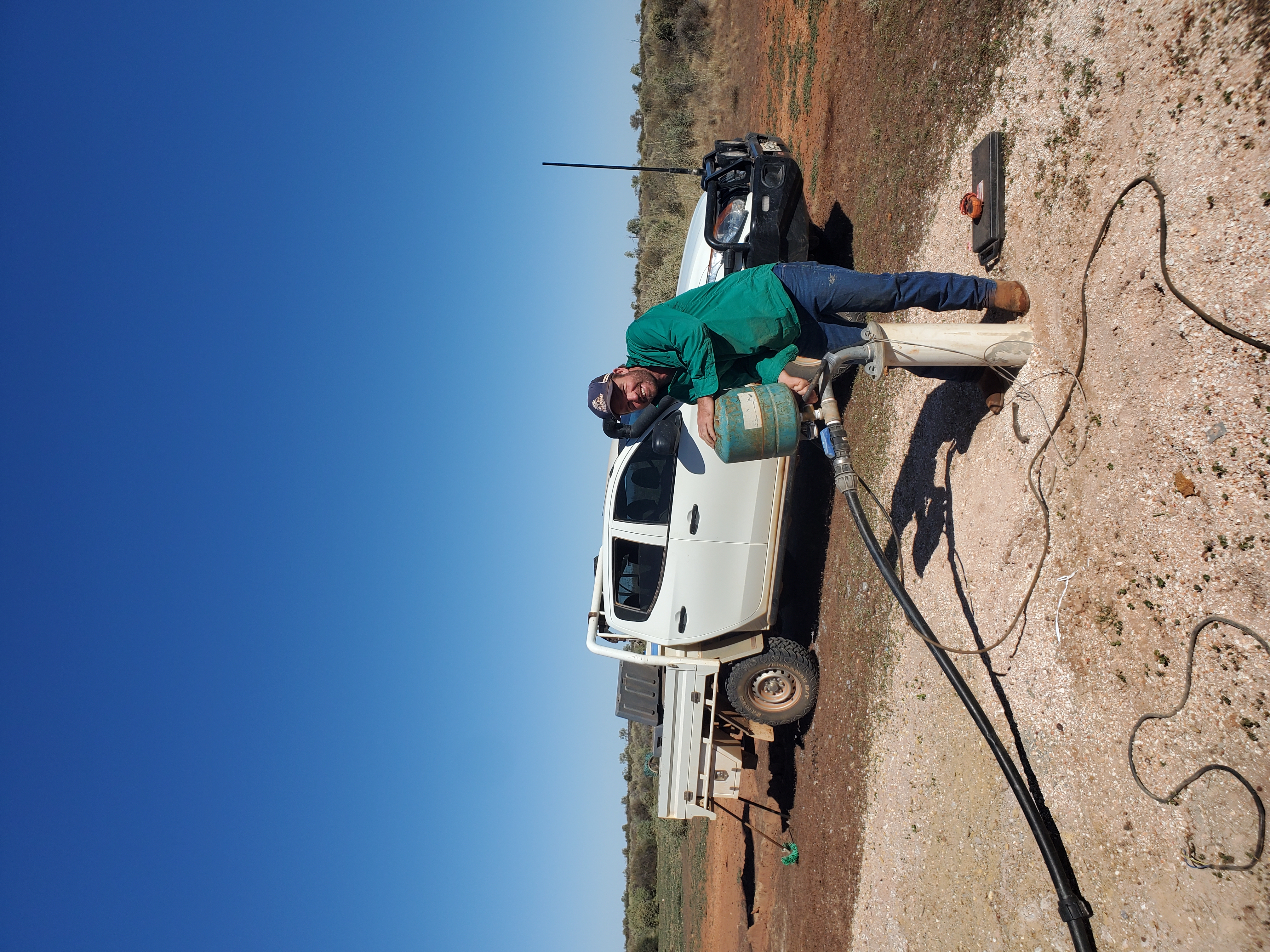 I promised Toby I'd provide photo evidence of him actually working. You're welcome, Toby.
In its day, Mt Eba Station had around 100 workers and was quite the operation. Its central location made it a logical pitstop for Trans Australia Airlines, which used the Station for refuelling along its Adelaide – Darwin service three times a week. When you fly in, you wouldn't be alone if you were to wonder which runway to land on – there are a number of smaller runways around the property, but I quickly counted about eight strips near the homestead, albeit some no longer in use.
The original homestead and shearer's quarters still stand today, alongside a newer homestead, the original shop (where time feels like it's simply stopped), plus the staff cottages. With around 22,000 sheep, each shearer might average around 140 head per day, or around 3 minutes a sheep. They also run about 150 cattle – and I say 'about' because it can be hard to be certain on a farm that literally runs for miles!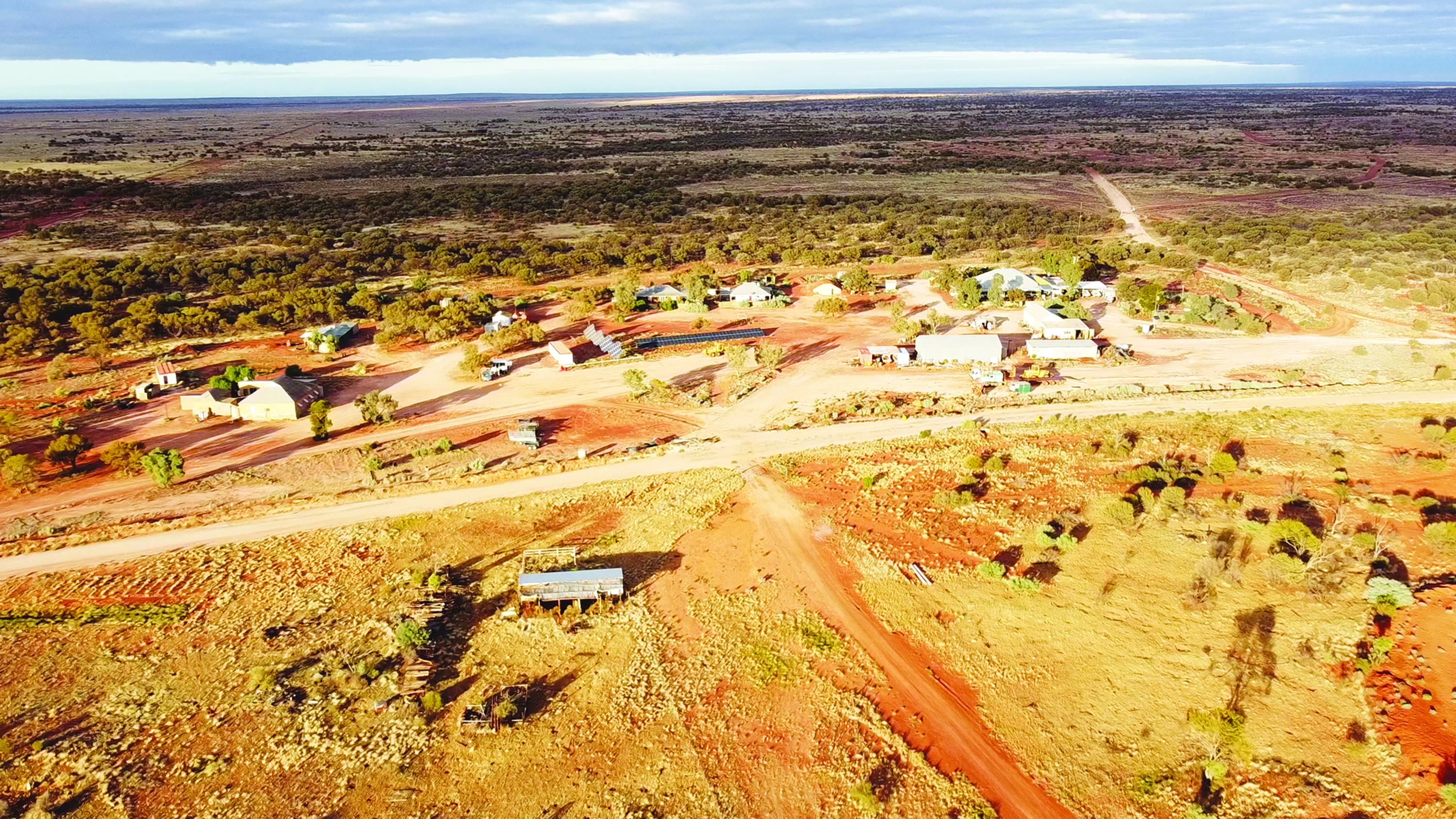 Mt Eba Station – The original homestead is on the left. Credit: Ed Jones
Flying and staying here is so much more than you might expect. The remoteness makes you appreciate the accessibility of shops, schools, services and experiences that most Australians are used to. Long distance relationships are common out here. Toby buys at least a month's worth of groceries at a time. You need to think about where your next meal and shower is coming from out here. Everything is hot commodity, and luckily for us they had a desalination setup for visitor showers.
For decades, the Woomera Range (about the size of England) was used for bomb and missiles. Originally, there was going to be a 30km exclusion zone, but it was thought that too many missile launches would be aborted. Farmers were then directed to dig WWII-style trenches for cover, but they ended up compromising with bomb shelters – not to be blast proof, but to shelter them from flying debris or a nearby blast. We stood in their original bomb shelter; the walls filled with stories. Watching missile launches at night became a pastime out here. One time the staff decided to watch a missile from the bomb shelter roof, but the missile was clearly off course and ended up landing a short distance away. Mrs Flo Crombie was still washing the underpants of the stock hands a weeks later. Some of the neighbouring properties have to fully vacate and the roads are shut down. And sadly, the bomb shelters had segregated ends for blacks and whites…filled with stories, like I said.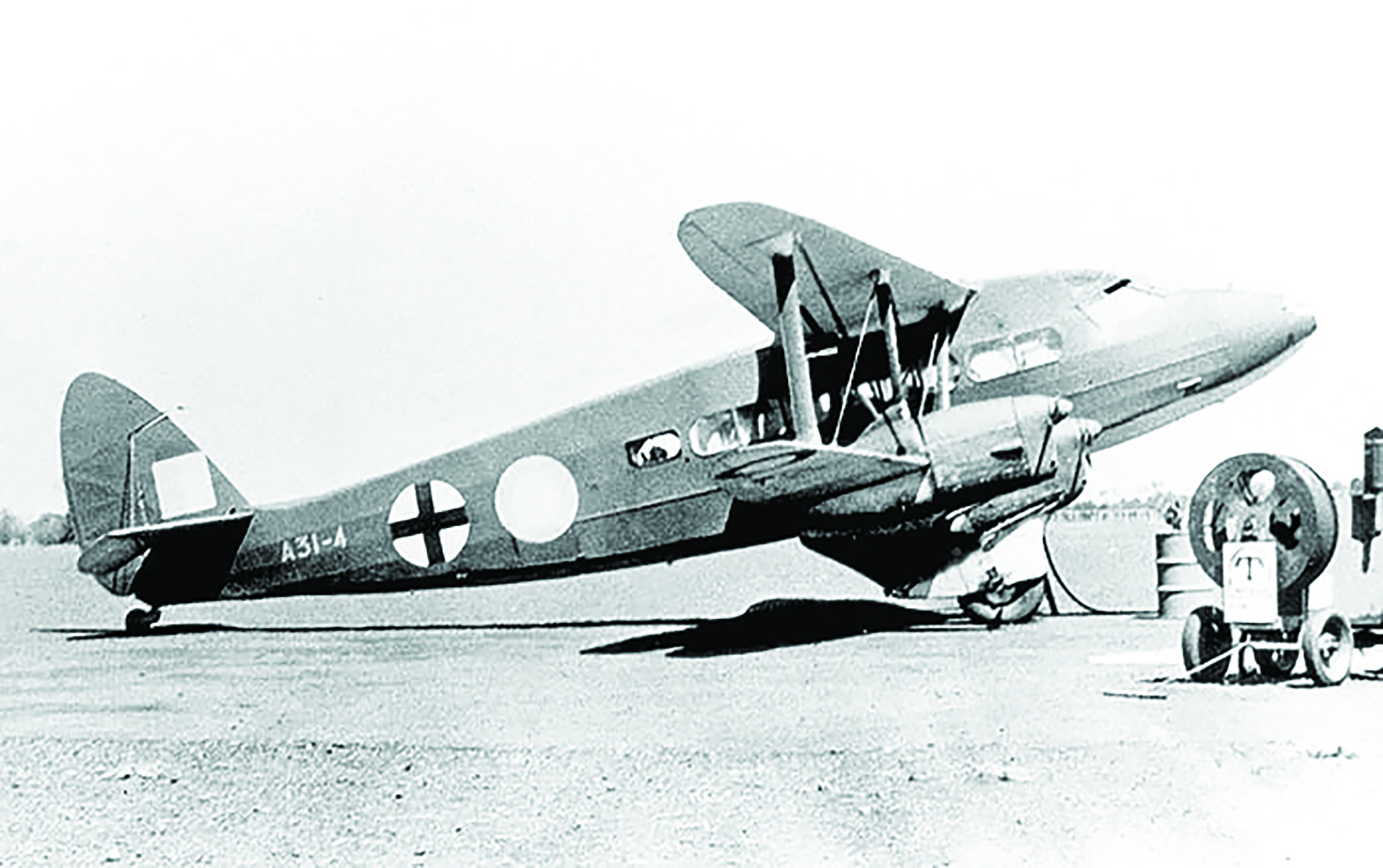 DH86 A31-4 with No.2 Air Ambulance Unit, refuelling at Mt Eba. Credit: Mt Eba Station
One afternoon, Toby turned up with a station ute, UHF radio, a laminated map. Toby was sending us up to nearby Mt Paisley – he said it should be a good sunset that evening. We popped some food, drinks and firewood into the ute, along with our two Golden Retriever puppies and some milk crates to sit on. We even managed to score some saltbush-fed mutton from Toby for dinner. Except that Teags made the mistake of turning the air-conditioner on, immediately filling the cabin with bulldust – we had the most spectacular outback sunset we had on our entire trip around Australia. Atop Mt Paisley, we sat overlooking endless plains of sunburnt country and clear skies as the sun dipped below the horizon. The fire crackled away whilst we nibbled on cheese and cooked our chops for dinner. Soon after, the night sky transformed into a glistening canvas of stars. I will never forget that moment, and I can't wait to get back there again.
Whether you've stayed on a station or not, Mt Eba Station will blow your mind. Each morning I walked out to the airfield and went for a wander, watching the outback sun rise up and knowing it was going to be another glorious day. Before long, I'd be bumping into Toby again and more stories would flow. I'd hear about the most recent monthly pub visit for everyone in the region (the pub is 120km away!), the local game of cricket that had a few laughs – the company and banter is so endless that Pete and Margie have setup a firepit and BYO bar for visitors to enjoy.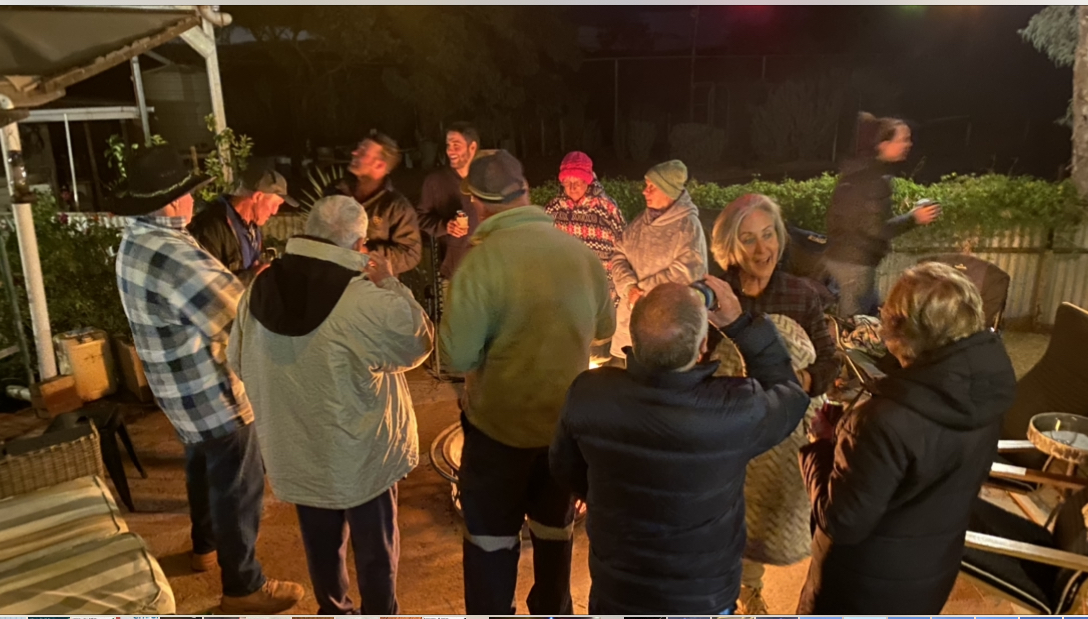 BYO drink and food at Pete and Margie's bar.
Above all, you'll come back like me – wanting everyone you know to have the same incredible experiences and meet the amazing people that you have. It's worth the trip, just to get to know Margie, Pete and Toby, let alone the aviation sightseeing opportunities around them. If you're looking for a unique adventure in the outback, it doesn't get any better than this.