"Rosie the Rocketer" Restored
Words: Tom Lyons | Images: Colin Powers & The Bulletin (Bend, OR)
U.S. Major Charles "Bazooka Charlie" Carpenter earned a reputation during WWII as the fearless pilot of Rosie the Rocketer, one of the most famous light aircraft of all time. An L-4 Grasshopper (the military name for the Piper J-3 Cub) fitted with three M1A1 bazookas on each wing, Rosie was responsible for destroying several Nazi tanks during Carpenter's stint in France. For years, the legendary plane had been missing, but after finding it in an Austrian museum in 2017, Rosie made her way to Oregon, where she has just now completed a full restoration to her former glory.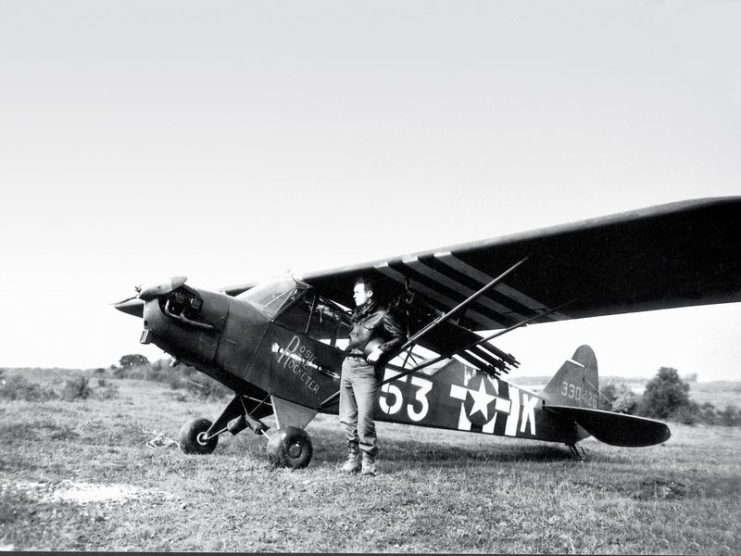 In 1944, U.S. Major Charles Carpenter arrived in war-torn France. An observation pilot, Major Carpenter was assigned an L-4 Grasshopper for artillery support and reconnaissance missions. Not set on simply watching the action from above, Carpenter quickly earned the nickname "Bazooka Charlie", fitting three M1A1 bazookas to a small piece of plywood on the jury struts of each wing and taking on the Germans himself.
During the Battle of Arracourt, Major Carpenter was responsible for knocking out one armoured car and four tanks in Rosie the Rocketer. This incredible accomplishment was soon featured in various press publications, including the Associated Press, Stars & Stripes and Popular Science, earning him considerable fame back home. Later, Carpenter would finish the war with 6 credited tanks destroyed and several more armoured cars. In early 1945, Major Carpenter was diagnosed with Hodgkin's Lymphoma and sent home, parting ways with his beloved Grasshopper. Given 2 years to live, Carpenter returned to Illinois as a schoolteacher where he lived another 21 years until his death in 1966.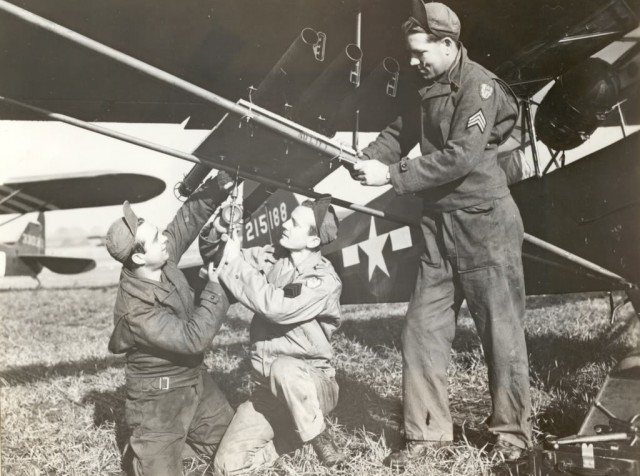 Major Carpenter never reunited with Rosie. Another pilot took to the skies in her until the end of the war, when she was sold off with several other aircraft and equipment deemed too expensive to ship home. For years, Rosie operated in obscurity, first registered in Switzerland as HB-OBK in 1956 and then in Austria as OE-AAB (therefore being the second aircraft ever registered in Austria). Operating as a tow aircraft for gliders for several years at the Austrian Aero Club in Vienna, Rosie eventually found herself in the Österreichisches Luftfahrtmuseum, an aviation museum in Graz, Austria.
In 2017, Major Carpenter's daughter Carol Apacki wrote an article about her father, sharing a photo of him with Rosie. The article was read by warbird enthusiast Jim Scheil, who quickly went about tracking down the plane via her serial number. Upon finding Rosie in the aforementioned museum, Scheil contacted Rob Collings. One of the foremost collectors of warbirds in the US, Collings is the founder of the Collings Foundation, a non-profit organisation dedicated to restoring and preserving historic warbirds. Collings flew to Austria to examine Rosie and subsequently purchased it from the museum, to be returned home and restored.
From here, Rosie was sent to Oregon to be restored by Colin Powers, 84, a warbird enthusiast who had previously completed multiple WWII-era restorations including three Piper L-4 restorations. Arriving in early 2019, Powers set about what he has called his favourite project to date. After stripping back the fabric, Powers was surprised at just how good condition the aircraft was in. Wooden spars and aluminium ribs were all clean and strong, with original pencil marks from the factory still visible on them. In fact, the only real challenge Powers encountered was the bullet holes. "One bullet had passed from the bottom through the leading edge of the aileron into the wing, went through the steel-plate hinge for the aileron, tore a big chunk of metal out of one of the ribs and exited out through the top of the wing. I've retained all of that [damage]; except on top of the wing, [I] just put a patch where it exited." he said.
For all intensive purposes, Rosie was in fairly good condition, but she wasn't original like she was in 1944. The cowling, boot cowl and instrument panels had all been replaced over the course of the plane's life. Working as a glider tow, Rosie had also been fitted with a Continental C90 for increased power. With a copy of the original Piper build sheet, Collings and Powers were able to track down and source all the original parts necessary to restore Rosie to her 1944 spec, including a period-correct 65hp Continental engine and refurbished instruments from Keystone Instruments in Pennsylvania.
Powers had kept in touch with Carol Apacki throughout the restoration, keeping her updated on the progress of her father's plane. In October 2019, Apacki, 77, and her daughter Erin Pata visited Powers to view the partially restored plane. Pata, a graphic designer, helped to restore the paintwork, recreating the original Rosie the Rocketer design her grandfather had painted on the side of the plane.
After a year and a half of hard work, Powers finally completed the restoration in July 2020. Originally scheduled to appear at the cancelled 2020 EAA AirVenture Oshkosh, Rosie the Rocketer will now make her way to the American Heritage Museum in Hudson, Massachusetts to be displayed alongside several other WWII-era warbirds in all her glory.