Rawnsley Park (YRYK), SA
We've found you the perfect base to explore the exquisite Flinders Ranges. This completely underrated part of the country is everything you want in an outback adventure – ancient rock formations, dusty red roads and landscapes that feel out of this world. The flight into Rawnsley Park is just the beginning of an unforgettable escape.
FACILITIES
The airstrip is operated by Rawnsley Park Station. There is one main unsealed runway at the Aerodrome (03/21), 1,100m in length. The airstrip has minimal facilities, but much of what you need can be found at Rawnsley Park Station – general store, accommodation, restaurant, e-bike and car rental. Landing permission is required.
GETTING AROUND
Free transfers are available from the airstrip to those staying at Rawnsley Park Station. All other transfers can be arranged for a fee. Check with Rawnsley Park Station for details.
EXPLORE
The stunning red peaks, gorges and valleys of the Flinders Ranges is number one on your list of things to explore once you have landed. Pack some supplies, tackle one of the trails and be rewarded with epic views – there are also guided tours that can collect you from your accommodation. There are plenty of other memorable experiences, such as 4WDing and mountain biking, plus ancient Indigenous rock art sites and historic European settlements.
EAT & DRINK
The Woolshed Restaurant is your best bet when it comes to a contemporary take on a classic Aussie feed, complete with locally sourced and sustainable produce.
STAY
Rawnsley Park Station has most of your accommodation needs handled. Stay in one of the modern eco-villas, the historic sheep station homestead, or go further out the bush and enjoy one of their cabins or camping sites.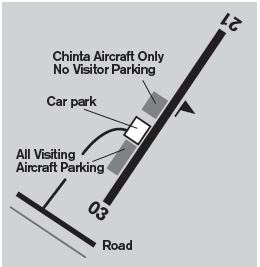 ELEV: 1,398 ft RWY: 03/21 1,100m unsealed, gravel
CTAF: 126.7 RWY LIGHTING: Nil
AD OPR: Rawnsley Park Station (08) 8648 0700 rawnsleypark.com.au Landing permission required. Please contact Rawnsley Park Station prior to your visit.
REMARKS: RH CCT from 03. Powerlines run E/W 6m off the ground 150m from 03 thresholds, bearing 210
FUEL: Unavailable.
AD CHARGES: $25 single-engine $50 twin engine