Pilot Profile Erin Douglas: Turning Fear Into A Career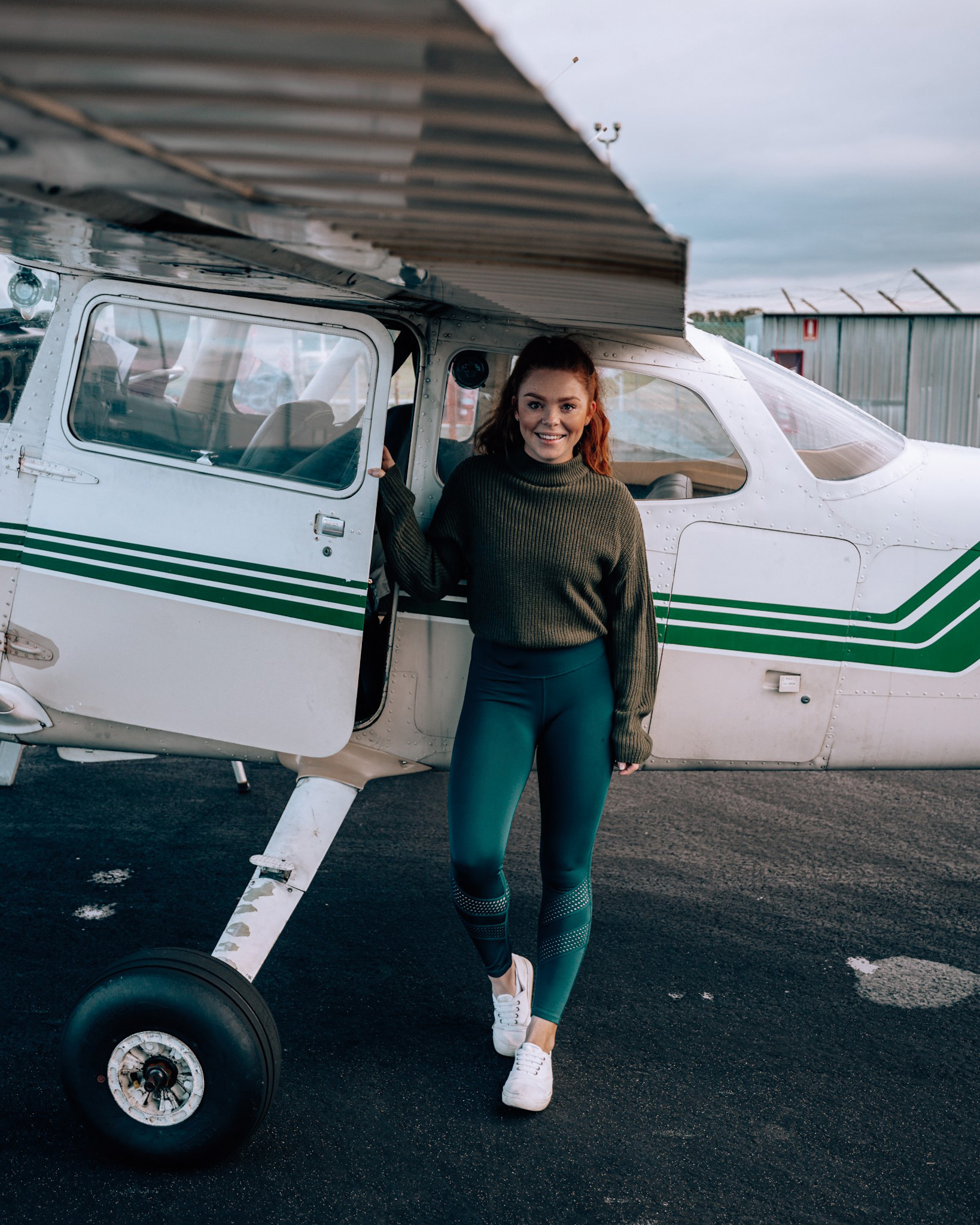 A girl on a journey through a fear of flying" are the words that lay at the top of Erin Callery's Instagram page. Known online as @flyingwitherin, Erin is a young, eager and successful pilot taking her followers on an exciting aviation journey through images. Curious to learn more about how someone turned a fear of flying into not only a hobby, but also a career, I had a chat with Erin to hear about her aviation journey and how she overcame her fear.
A few years ago, Erin and her husband, Josh, went on an overseas holiday. Their plan was to cruise to Malaysia and Singapore and afterwards fly back to Australia into Darwin, where Josh's family lives. It was a few days before their flight back to Australia when Erin's fear took hold and she said to Josh, "I'm not flying, I can't fly, book me a cruise." Rather than spending a few hundred dollars and a few hours on a plane, Erin's fear of flying meant they had to spend an extra $6,000 and several days cruising from Singapore to Sydney, catching a train from Sydney to Melbourne, and then driving from Melbourne to Adelaide. "At that point, since he still married me, I figured I needed to do my part in this relationship. I think if I did that again I probably wouldn't be married now," Erin laughs. Times like these are what convinced Erin that she needed to overcome her fear and what eventually led her to starting an incredible aviation journey which she is now sharing with the world.
"It was New Year's 2019-2020 and we were on a holiday in New Zealand. We were coming back on New Year's Day, so I was terrified anticipating that flight." Erin wrote out a New Year's resolution list, which included a commitment to overcome her fear of flying. Erin admits at the time she had no idea how she was going to do it, she just felt that she had to overcome her fear. Her fear had grown so bad that she was constantly turning down holidays and events just to avoid having to fly. "I'd spent so much of my life grounded. I'd spent half my life paranoid and I was ready to stop being that way at any cost. This was the last effort for me." Later that year, Josh decided he was going for a trial flight with the goal of learning to fly. Erin very reluctantly tagged along thinking maybe this would be a way to beat her fear, and she has never looked back since.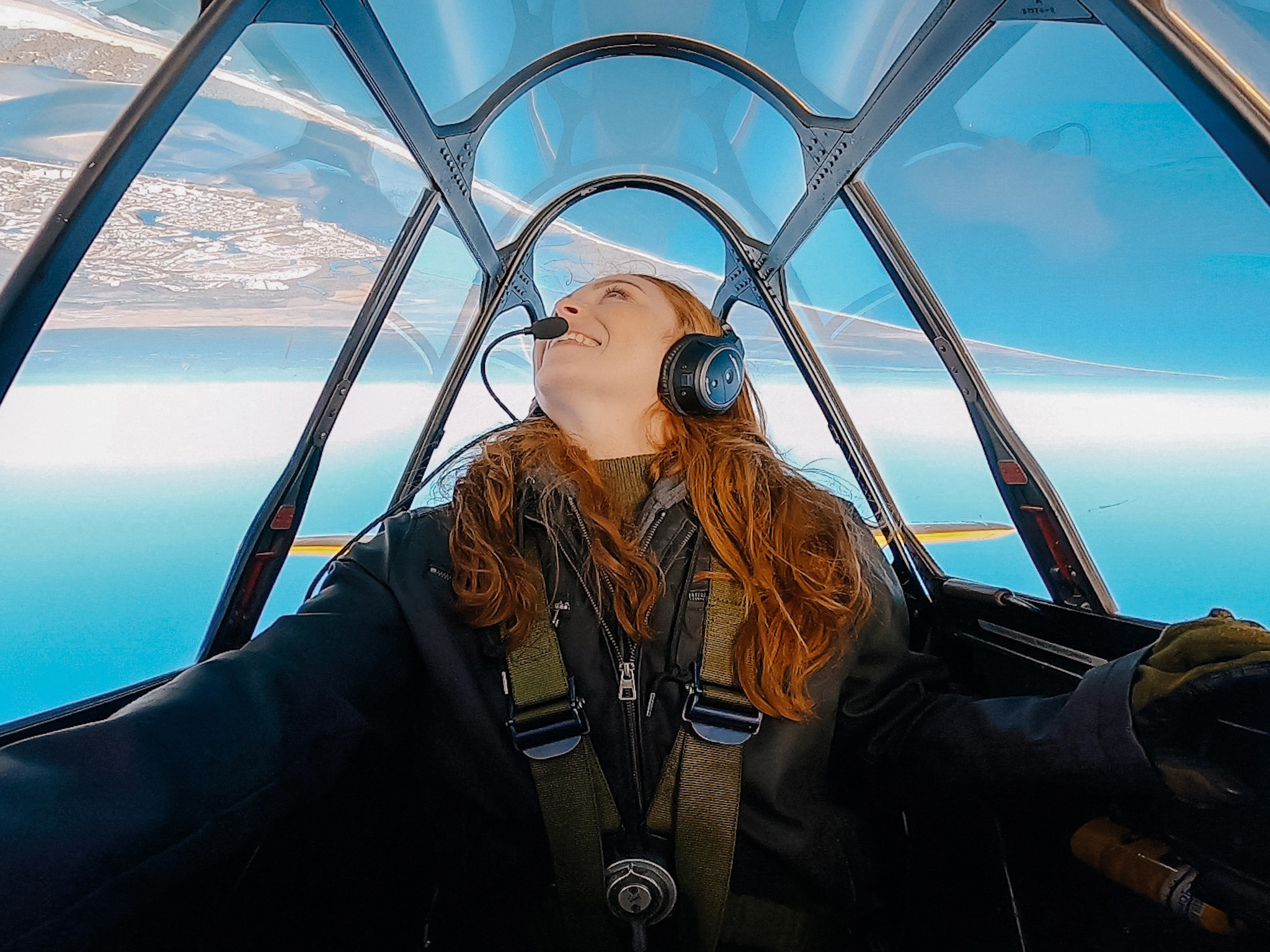 Erin was lucky enough to fly in a Harvard piloted by Tony Chamberlain. Credit: Josh Douglas
Speaking excitedly about her increasing following online, Erin admits "It has a mind of its own now. It's just taken on its own life. I started it right at the start of training. Josh and I were talking and we thought we should document my journey; we had no idea how it would go." Josh is a photographer and Erin loves writing; they figured their combination of skills might interest people. "It turns out that it did interest people and so I built kind of a little community. It's nice, it's a safe place, it's very friendly. I wanted a really inclusive space where people felt like they were getting an honest story and also had a place to tell their story honestly."
When I asked Erin about the opportunities that sharing her journey online has presented, she said that some great things have come from it, but the best part is getting to know what else is out there in the world of aviation and connecting with other people. "The best part of it is connecting with people not just here in Australia, but also people overseas, hearing people's stories, people that might be inspired by my own story to beat their fear. It's opened my eyes to size of the community and it's been good to make a lot of online friends. They're genuine connections, people genuinely can help you and you can help them."
Talking with Erin, it was obvious just how excited she is about aviation. Her passion for flying is radiant, although she does acknowledge there have been challenges along her journey, including money, work and balance. With her and Josh both learning to fly, the costs have added up. She also acknowledges that her fear of flying does still have an effect on her often, however Erin has largely overcome it by confronting it head on. She is lucky to have a valuable support network around her helping her through the journey. "I think I've pulled inspiration from a very wide range of people. I have my husband who is my biggest support. I think I've pulled inspiration from the entire community in bits and pieces but I do rely heavily on my support network, so I have my main instructor who is a very close friend now." Erin's flight school, Advanced Aviation Training at Redcliffe, is another source of support for her. "It's really friendly, a really good environment to be in," she says of AAT. "You need that at a school, you need a really positive environment where everyone is there to support everyone else. Even though there are people that are way more experienced than you, you're treated no differently if you're starting to if you're at the top. It's just a big family and that's what I love."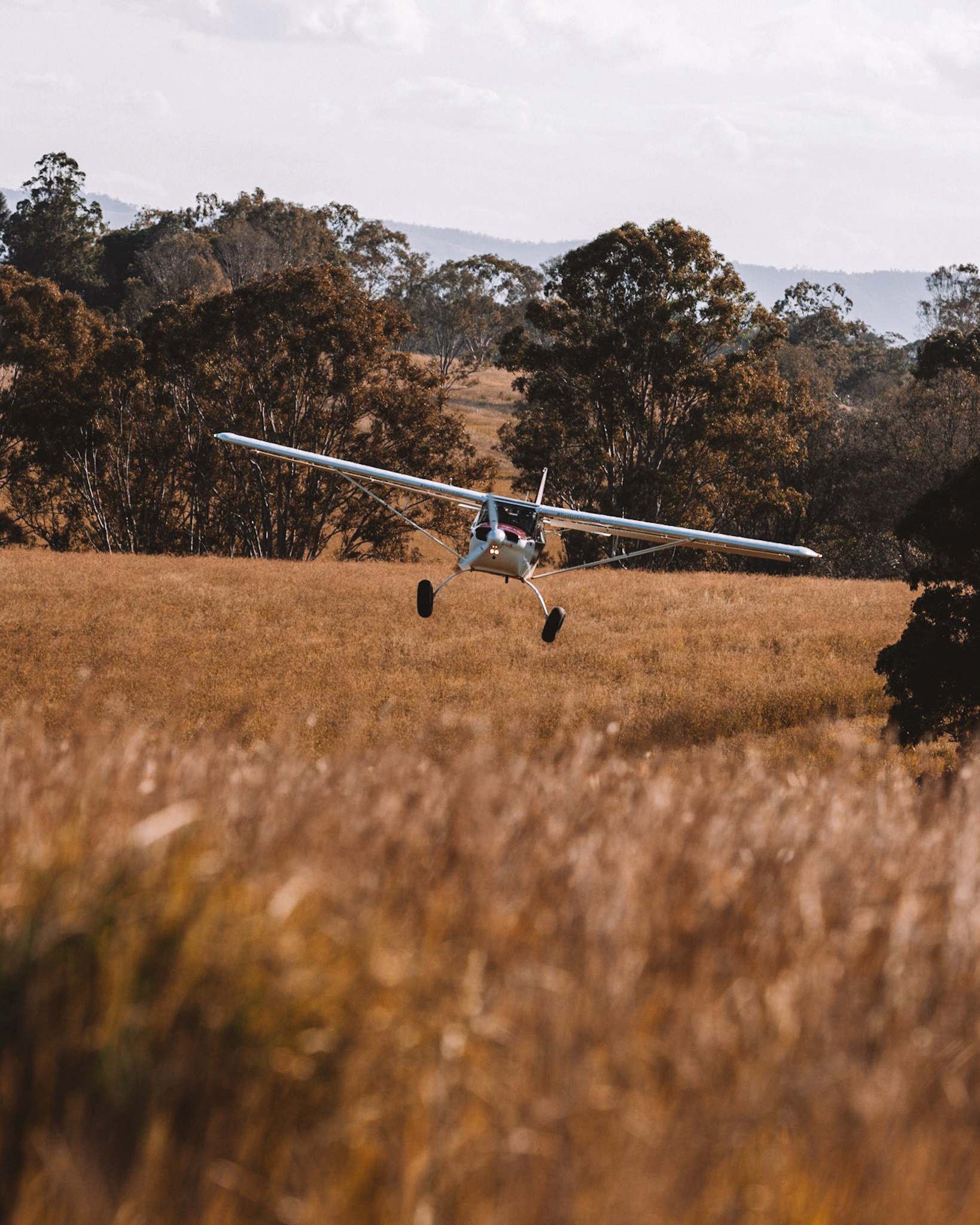 Erin flying a Eurofox. Credit: Josh Douglas.
At the time of our conversation, Erin was on the second day of her instructor rating and it was readily apparent just how ecstatic she was about it. Teaching is Erin's passion, so instructing is her career goal. "I also want to help people one day that have a fear of flying, since I have a fair bit of experience with that." She eventually plans to pursue a career with the RFDS, but for now Erin is focusing her efforts on studying for her instructor rating while working at an airport. While the burst of the New Zealand travel bubble has meant less hours at work, it has meant she is able to spend more time concentrating on her studies. In terms of non-career related goals, Erin someday wants to purchase a plane with Josh and fly around Australia. "I think one day that would just be an amazing thing to check off the bucket list. There's a lot of things that I want to see from above that I've seen from the ground. So now that I have the skills to go and do that, I'd really like to one day."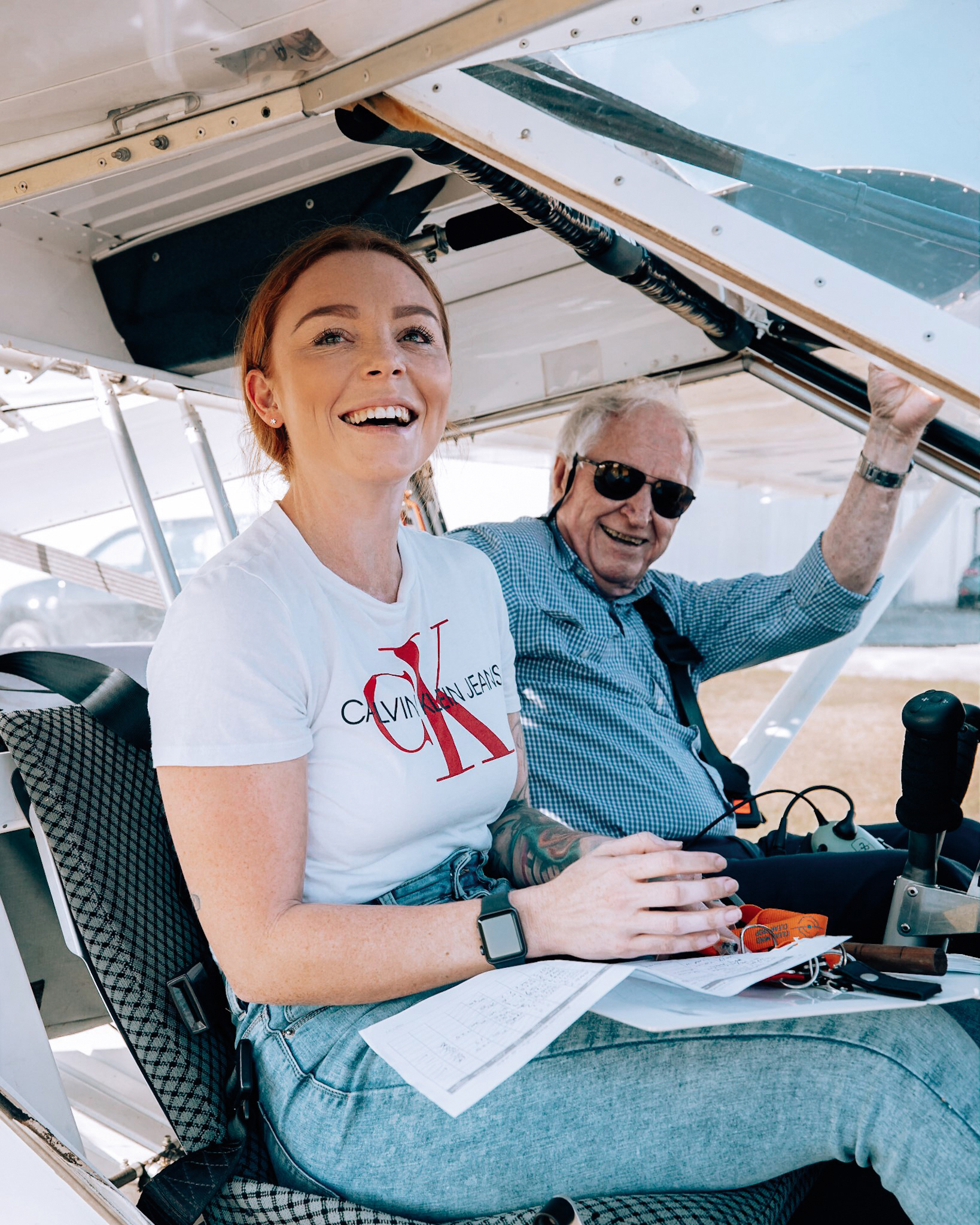 Erin and Bob Tait sit in a Foxbat pre-flight. Credit: Josh Douglas
Reflecting back on her achievements so far, for Erin it's more about how far she has come rather than certain milestones. "All of the cool things, for me personally, have been the times where I've gotten back on the ground and thought if you asked me two years ago if I'd be doing that, I would have said 'Never in my life!'."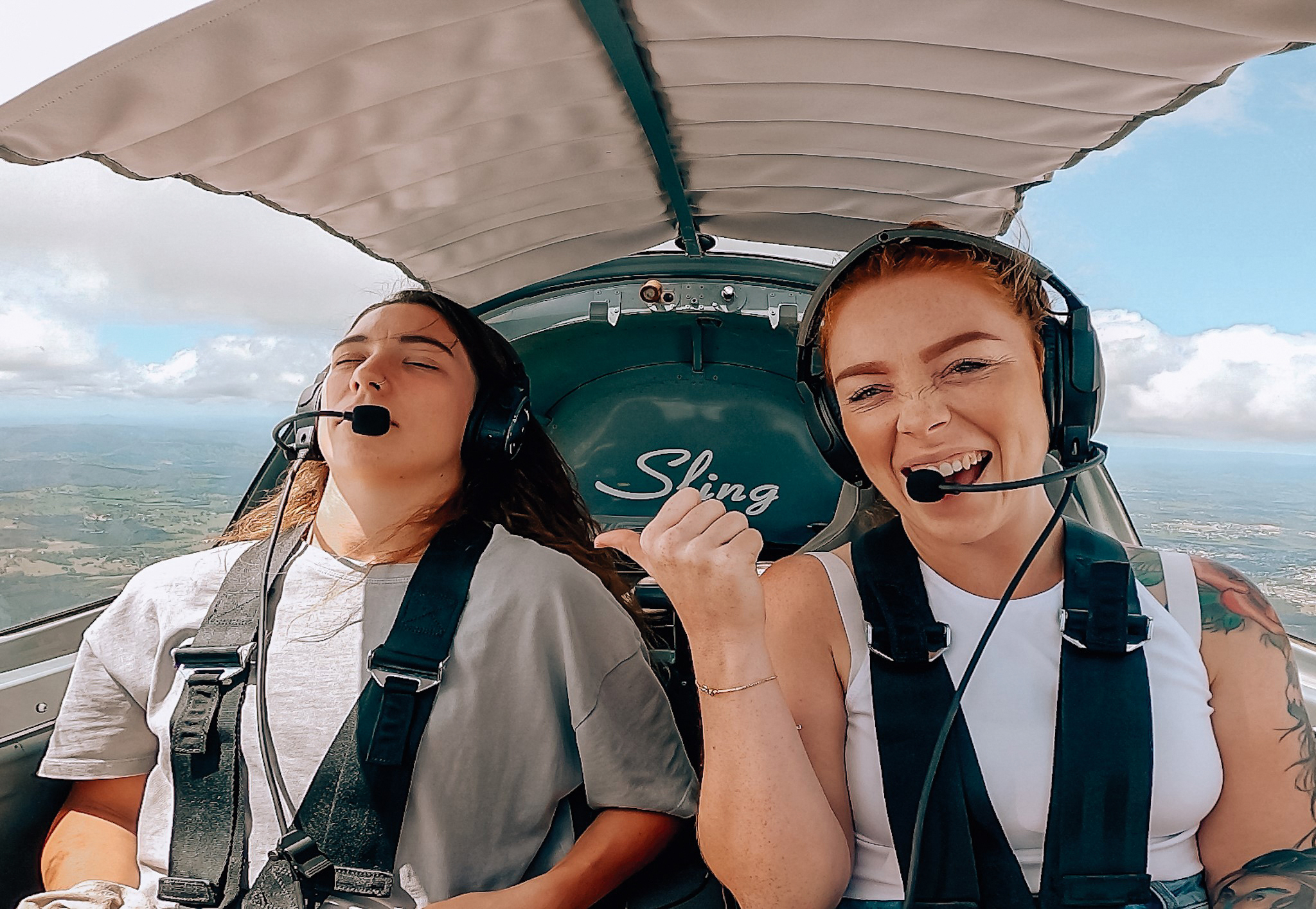 Erin takes her sister Georgia flying in a Sling 2. Credit: Erin Douglas
When I asked Erin whether she had any advice for people with a fear of flying, she said "I would say to go for a trial flight. I wouldn't necessarily recommend diving in learning to fly as the first option. It's not going to work for everyone, it's personalised completely when you have a fear. You might find that your fear is connected to a sense of being out of control, and as soon as you are in control you might find that was really the key." For everyone else, Erin suggests they go for it but be prepared to put in the proper time and planning. "Be prepared to study, be prepared to do the hard work that is going to make you a good pilot." She also encourages new pilots to get involved in the aviation community, "It's a big community and it's extremely supportive. Our community is there to support each other no matter what journey you are on, because everyone's journey is different."
Erin's incredible journey has only just begun. If you want to join her adventures through aviation, you can follow @flyingwitherin on Instagram.