Patrick Martin's Flying Flea
Words & Images Arthur Marcel
According to Wikipedia, the Flying Flea (Pou du Ciel literally 'Louse of the Sky') is a large family of light homebuilt aircraft first flown in 1933. Its odd name comes from the French nickname for the Ford Model T automobile, 'Pou de la Route' (Louse of the Road).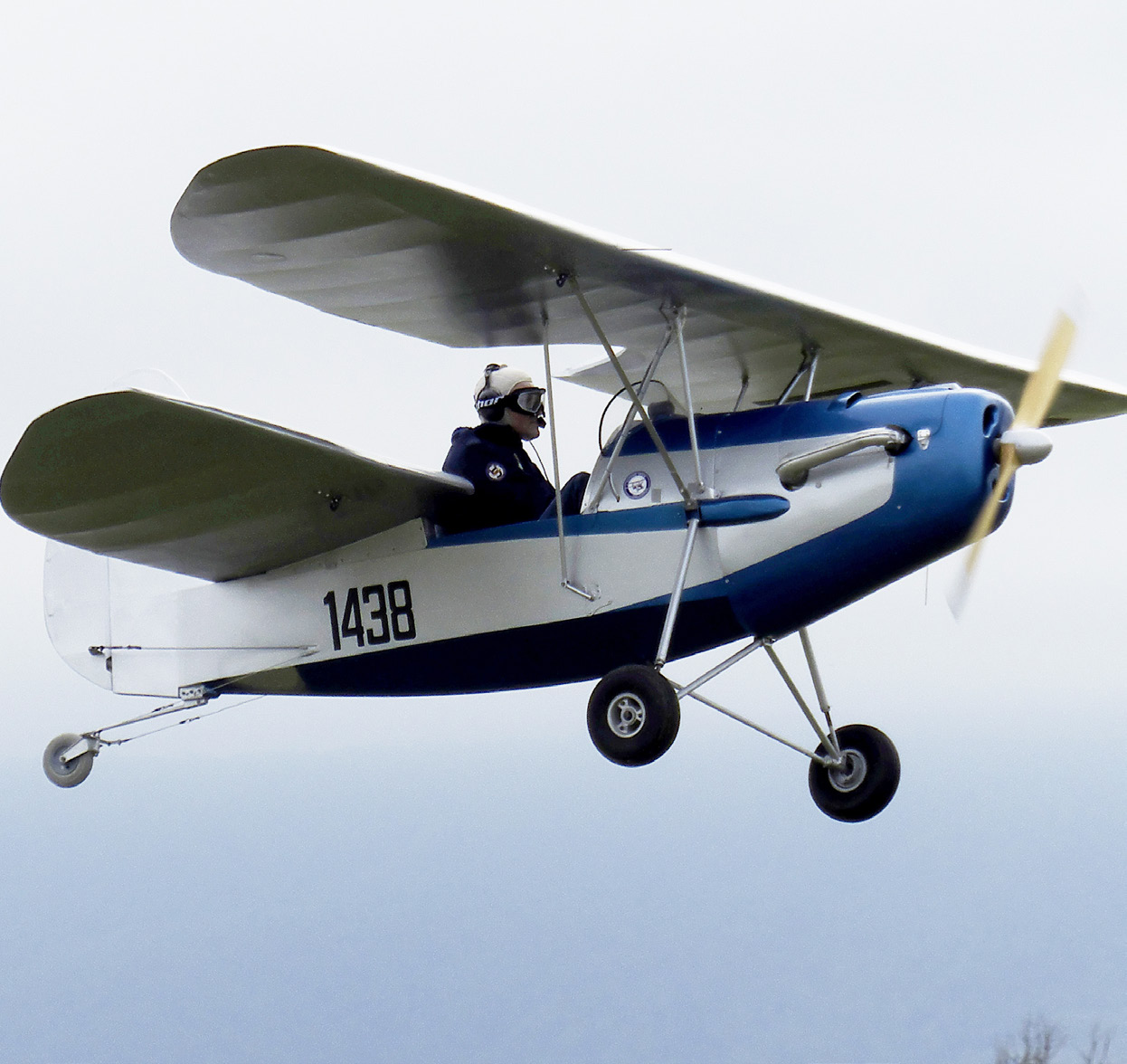 Henri Mignet dreamed of creating a Model T of the air, an aeroplane for the common man, hence 'Pou du Ciel'.
The first HM.14 was powered by a 17hp motorcycle engine. A year after the first flight, Mignet published plans and building instructions. In 1935, these were translated into English in the UK and serialised in Practical Mechanics in the US, prompting hundreds of people to build their own Fleas.
Tragically, the original HM.14 had design flaws which often led to fatal dives under certain conditions. Once identified, these flaws were quickly corrected, but the bad publicity continues to be associated with the Flea, despite the basic configuration having proven to be safe in hundreds of homebuilt and factory built aircraft since.
Essentially a highly staggered biplane, the Flying Flea is built of wood and fabric. It has two-axis flying controls with a standard control stick. Fore-and-aft movement controls the front wing's angle of attack, increasing and decreasing the lift of the wing. Side-to-side movement of the stick controls the large rudder, producing a rolling motion through yaw-roll coupling.
Many examples of the Flying Flea were built; in France alone there were at least 500 aircraft completed. Modern Flea enthusiasts usually vary the original HM.14 design considerably, adapting the airfoil and rigging of later models, such as the HM.360, to the fuselage of the HM.14, to create a safe and reliable aircraft with the retro look of the original.
I met Patrick Martin quite by accident at the recent Watts Bridge Fly-in. I immediately recognised him as a kindred spirit because he was wearing a Facet Opal T-shirt. The story of how Patrick came to be involved with his Flying Flea is a long one. It began at the age of 10, when he was taken to an air museum outside of Paris. It was there he first saw a HM.14 Flying Flea of 'as per the book' construction. He remembers being instantly hooked. Being a boy, he felt it was the right size for him, and because it was a simple construction, Patrick imagined he could easily build one in his bedroom. He has spent the rest of his life so far studying, researching, reading, buying books and travelling the world to see examples of the Flea, including two subsequent trips to Paris to see the actual plane which captured his heart.
In the early 90s, Patrick read a short article about a locally built Flea, which he deduced was an HM.290/3. He wanted to find the plane but had no leads to go on. Ten years later, he heard about Fred Byron's Flying Flea at Watts Bridge and realised it was same plane.
Fred Byron had built the plane in Lismore. It first flew in August 1994. When Patrick caught up with it, it was RA-Aus registered and had been thoroughly tested - with none of the original Flea faults evident.
It had been built using Henri Mignet's original single sheet plan from 1946, which Fred had redrawn as he went using his considerable knowledge of building Piel Emeraudes, as well as his wartime experience on Avro Ansons.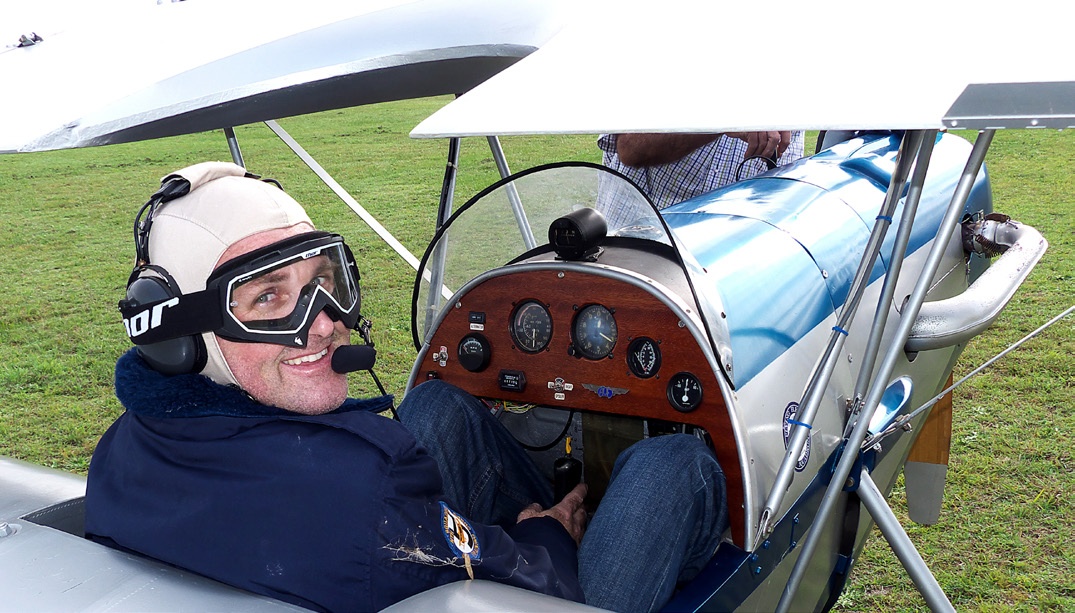 When the plane came up for sale again, Patrick was quick to make it his own. Basically, this Flea differs from the original only in that the cowling is glass reinforced plastic; the full flying rudder has been replaced with a fin and rudder and Howell spoilers and Cossandey flaps have been added (neither of which are used in normal operations).
The only other subtle changes are the addition of rudder pedals (which steer the tail wheel only) and after initial testing, the rear wing area was increased to that of the modern HM.293 (Patrick still has the original wing panels).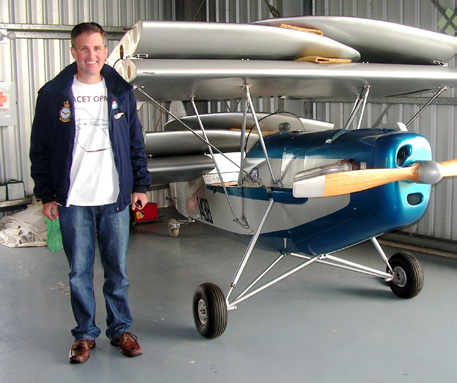 Patrick's Flea has folding wings, making it very small in the hangar. It also has the original pivoting front wing for pitch control and rudder on the stick for roll/yaw control. To turn, the stick is pushed either way with appropriate back pressure to maintain altitude. The stick has to be held over to maintain the turn or the Flea will return to straight and level. Pitch is managed in the usual way and the stall is non-existent. Apart from making sure his feet are centred prior to landing, Patrick says the Flea flies like most other planes. The differences are subtle, but Patrick says you have to be aware of them. He thinks pilots of conventional aircraft may have some misgivings at first, but with proper counselling, training and time, they would find it a fun way to fly.
Cruise is a respectable 60-65kts indicated and a two hour endurance make the little plane perfect for local flying. If you have plans to go to Perth, the helpful folk at Qantas would be a better choice.
Patrick's Flea is powered by a Rotax 503, giving it considerably more horsepower than the original plan called for. Being part of this Flea's life is a dream come true for Patrick and he feels honoured his name now appears in its log book.
This article was first published in SportPilot Issue 36.