Look up and Live - Aviation Safety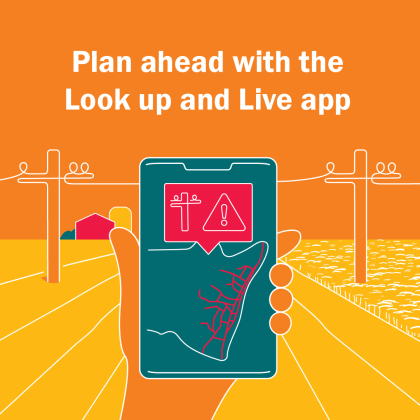 Don't wing it with powerlines.
Powerlines can pose a safety risk for recreational and general aviation pilots involved in low-level flying. Whether you're involved in aerial application, recreational flying or other aerial activities, Essential Energy says there are some things you need to know before you fly.
The first and most important step is to always plan ahead to stay safe. "We encourage all pilots to plan ahead and downloading the Look up and Live app to help locate powerlines where you are planning to fly is one effective step in being prepared" Essential Energy's Interim Head of Health Safety and Environment, Kayla Hardy said.
"The app is a simple tool that anyone can access from the laptop or smartphone, to access information including the location of overhead powerlines and imagery via an interactive geospatial map. This is an important first step that everyone flying near powerlines should take before they take off".
The app can be accessed at essentialenergy.com.au/lookupandlive, or downloaded through the Apple or Google Play stores. Essential Energy said you should also consider discussing powerline locations with property owners where you plan to fly as part of your pre-flight planning, as some locations may benefit from installing aerial markers, which dramatically increase the visibility of powerlines.
Essential Energy is offering free installation of up to 10 aerial markers (also known as "ROTAMARKATM") for eligible customers, providing significant savings.
"Feedback from those undertaking work near where aerial markers are installed has been very positive, with people saying how amazed they are with how eye-catching the markers are, and others stating they help save lives."
SafeWork NSW offer rebates to small businesses and sole traders in NSW who buy and install equipment that makes their workplace safer, meaning many agribusinesses may be able to claim back up to $1000 of the purchase cost of the powerline markers. Essential Energy also offers site visits on request to discuss ways to stay safe around powerlines.
Part of planning ahead also means checking the weather. Poor weather conditions and flying at dawn or dusk can reduce the visibility of powerlines – it might be worth considering whether you can reschedule your flight if poor weather is forecast.
It's also critical to know how to respond in the unlikely event your aircraft comes into contact with powerlines or another part of the electricity network.
"If your aircraft contacts and becomes entangled in overhead powerlines, stay put and call 000 immediately. Please don't exit your aircraft until you have received the all-clear from attending Essential Energy employees that the power has been switched off," Kayla said.
"This is a critical step that could save your life – too often we see incidents occur because operators didn't know how to respond when their aircraft has contacted the network – staying put could save your life," Kayla said.
Essential Energy also offers a range of online electrical safety information including educational fact sheets on aviation safety available at essentialenergy.com.au/aviationsafety