Jason & Rohan Spread Their Wings at Alpine Aviation Australia
Words & Images: Martin Hughes, Jason Frost & Rohan Pidcock
Two more students of Alpine Aviation Australia, based at Jindabyne Airfield, have achieved significant milestones in their flying training. Jason Frost on 8 March and Rohan Pidcock on 12 April both accomplished their first solo flights. Both have worked hard at their training and been resolute in achieving this level of competence. They both have their eyes firmly set on obtaining their Pilot Certificates in the near future. Hear their stories in their own words below.
Jason Frost
Well, what an experience. MY FIRST SOLO FLIGHT!!!! Truly amazing. Each time I have had a conversation with an experienced pilot they have all said. "Your first solo will be an amazing life experience, tell me what you think".
After spending lots of time studying and training to know the experience would come one day but not sure when. Then mid session my instructor says "drop me off please its time for your first solo". It's an overwhelming and amazing moment.
However, it's also time to focus and perform. It's your first chance to take off, fly a plane and land it all on your own, so of course you need to get it right.
Once you have landed and finished all your checks, it's really an exciting moment as you finally have time to actually appreciate what you've done.
This will definitely be a life moment which I will cherish for ever.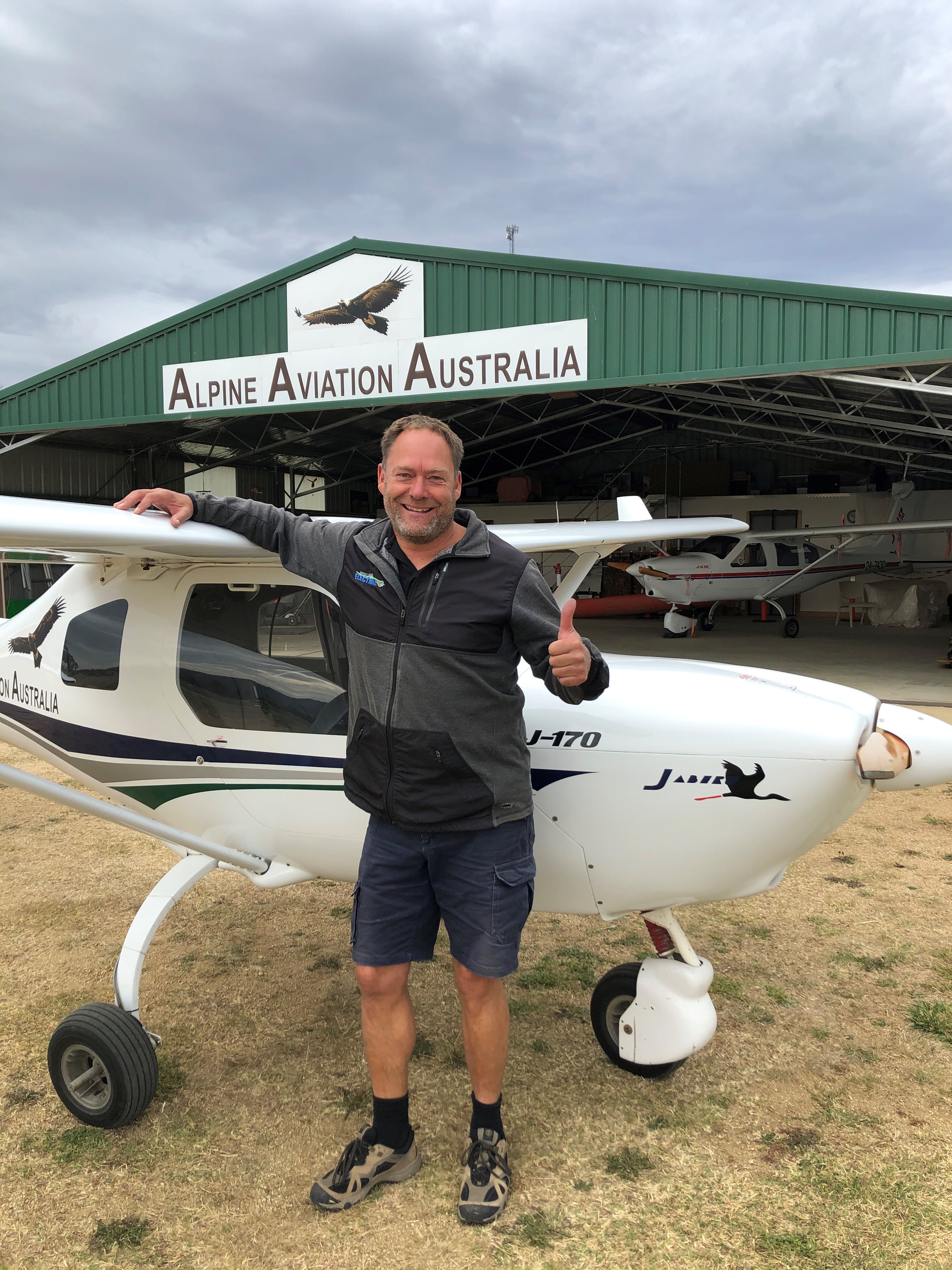 Rohan Pidcock
My journey began 14 months ago when my wife Paula and I were visiting friends. The subject of learning to fly came up. Paula suggested I should have lessons as I had always wanted to fly a plane. My friend Rolf responded "Martin is at the airfield now, let's go". Ten minutes later I was at Jindabyne Airfield being introduced to Martin Hughes who was to become my instructor.
The lessons began one week later. Martin has a lot of students at varying skill levels, and I initially was trying to compare myself with them and worrying about my progress. I eventually realised that I was in no rush and needed to perfect the processes and techniques before I would be ready to fly solo. With Martin forever patient and I forever optimistic, my lessons continued over the year.
The twelfth of April was quite a windy day. My lesson was at 1600 and I was not sure we would even fly due to the weather conditions. My last three lessons felt like I had made rapid improvements in skills and confidence, however I gave no thought to going solo today.
The lesson started well with a pretty good circuit followed by another. We then had a practice go around and a glide approach with a full stop landing. All went well and I was just happy that I was starting to fly consistently over the last couple of lessons. Martin asked how I was feeling and said "let me out you're ready to go solo if you feel okay".With Instant excitement but no nerves, I felt I was ready to go.  With only myself in the plane I was airborne when only a third of the way down the runway, climbing better than ever. I suddenly felt I had so much more time to prepare for my next move. All of my training kicked in and I fully focused on my next steps. Before I knew it I was on the final approach and the plane, lighter than usual, floated down the runway, with me patiently holding her off for a nice gentle touchdown. I  backtracked to the hangar and shut down the engine with a feeling of accomplishment and joy.
Can't wait for the next lesson!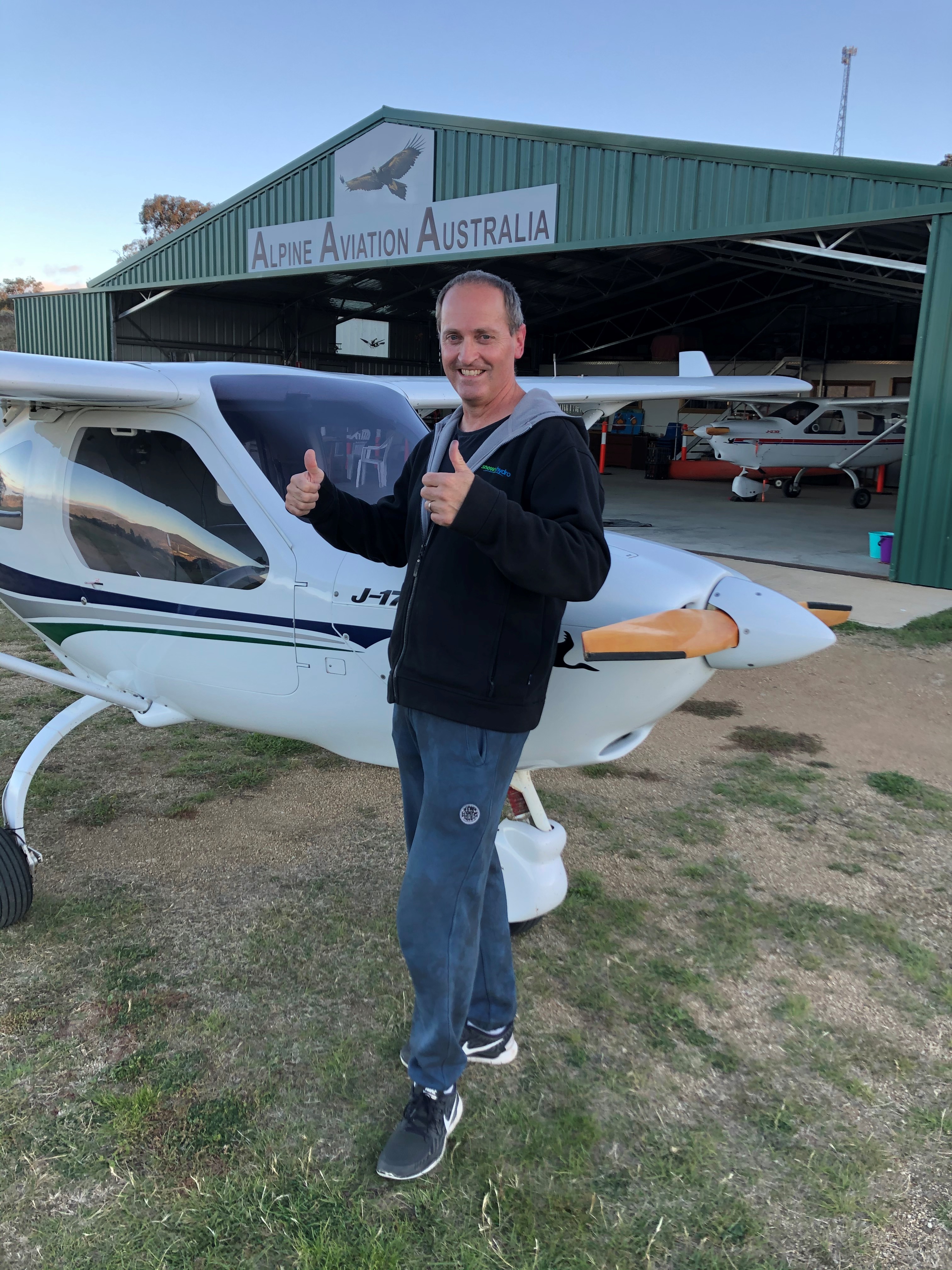 Alpine Aviation Australia operates out of Jindabyne Airfield. Flying Instructor, Martin Hughes, offers flying training to all ages (so long as you can reach the controls!), endorsements and conversions. He can be contacted on 0408209685 or at alpineaviationoz@gmail.com.