I Just Want To Fly
Words & Images: Greg Jarvis
A lifetime of trying to get airborne in any way shape or form with a very limited budget began shortly after I left school at 15 with a feeble attempt to join the Air Force.
I didn't really want a service career. I was just under the impression I could get a cheap pilot's licence. The Air Force careers bloke saw straight through me – I was rejected.
The next step was to start a pilot's licence course at Casey Fields at Berwick - I ran out of cash.
It all seemed too expensive. However, logic would state a one way trip should be cheaper, so in 1973 I had my first parachute jump. From memory it was on a temporary drop zone somewhere near Anakie (not Meredith) with Melbourne Parachute Centre. Five jumps later, a lot of bad weather days and delays, the nerves started to play and so I didn't return until the 1980s. Encouraged by Colin Streeter, Jump Master at Wangaratta Skydivers, I graduated from the old TU 28ft cargo parachute to the up-market 5 cell Strato Star. Again a move to Melbourne and several delays saw me drift away from the sport until 1999. Yep, back in the air again at Barwon Heads and later Nagambie drop zones.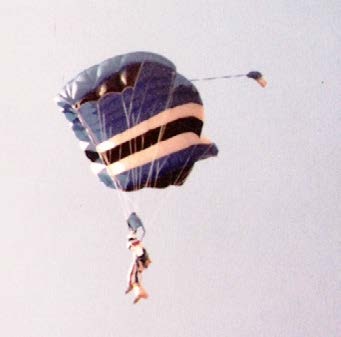 I was never a heavy duty skydiver. I loved freefall but hated the lead up, and to be honest, I wasn't very good. Blokes around me progressed a lot faster than I did and the new group coming through seemed to take things very seriously. When you leave the plane and the brown stuff is up and blue stuff down, you know you've buggered up. I preferred to have a laugh about it rather than have some whipper-snapper explaining to me in excruciating detail how I went wrong.
An aging body accelerated by a few hard or awkward landings and inherited back problems prompted me to seek something a little gentler.
The introduction to paragliding tested my patience (not my strong suit) and dedication to the sport. I admire those who have broken through the learner phase and are able to control the more difficult conditions, widening their window of opportunity to fly, the masters flying for hours. I found the paragliding community extremely supportive and would recommend it to anyone who has the patience and dedication and is prepared to sit on a hill for hours in the hope of a 10-20 minute flight.
After four years and a total of approximately 28 hours, I managed to park the thing in a tree- obviously I needed a motor.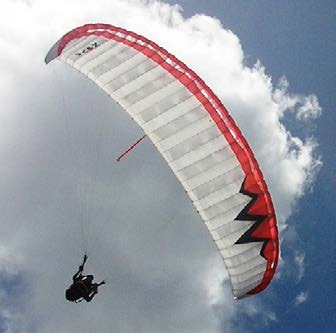 My first flight in an Aerochute was in January 2012. I spent the next 10 months procrastinating about the required investment and other more sensible and demanding priorities that needed attention. You know - house repairs, an old car which needed replacing. It was obvious I would be completely irresponsible wasting money on an Aerochute. I commenced
my course in November 2012 and four months later had already past the hours I had attained in paragliding over four years. My Aerochute is neither the latest nor the sleekest machine, but it does get me in the air. After a lifetime of searching, I believe this to be cheapest and safest form of elevation. Paragliders, both free flying and powered, no doubt enjoy their endeavours individually (apart from the advanced tandem pilots), however I find the opportunity to gain a passenger endorsement after just 30 hours and being able to share the experience with others, extremely appealing.
If you are interested in becoming airborne I have no hesitation in recommending the Aerochute as the answer.
I do prefer flying machines without doors, so if you are interested in flying, I look forward to seeing you under an Aerochute canopy at some stage, or alternatively I do have a professionally repaired paraglider kit for sale.
This story originally appearing in SportPilot Issue 54 | February 2016