Go West
It started with a few days on the Queensland coast. Agnes Waters and 1770 are a couple of less developed coastal communities that remind me of Noosa back in the 1970s. As a spot to spend a few days for R&R it can't be beaten. From a pilot's point of view, it has the ideal mix of a useful airstrip a couple of hundred yards from the beach. Owned and run by a bloke named Woody (although it is on the market, so that may change), it's one of those stick-money-in-a-box-on-the-tree type arrangements ($20 UL/$50 GA landing fee).
 The box has been there so long that the tree has grown around it. There should be more of that sort of thing. It also has one of the most beautiful patterns to fly. Coming in over the field, downwind on 14 takes you along the beach, before base right over the 1770 headland and flying finally up the estuary. It's worth a go-round just for the view. We literally walked from the plane to our accommodation, about 500 metres away and just 100 metres back from the beach. If you happen to be up that way, try Codie's Place in Agnes Waters for food and surprisingly good cocktails.
Agnes Waters.
All good things come to an end and we soon found ourselves back in the aircraft, getting ready to head out West. Our objective on this day was St George, but Agnes Waters doesn't have fuel, so a quick 19-mile diversion to Bundaberg would be required. Flying out of Agnes Waters on 14, you want to make an early left turn to avoid the hill south of the airport, before departing the pattern to come back on to the southerly heading for Bundaberg. Yes, you can clear the hill, but the people underneath may not enjoy counting the rivets on your underside as you fly by, so make the turn. It's also good to remember what my father used to say "You can't climb as fast as a hill". The run down the coast is glorious, with golden beach stretching on forever and a view of Lady Musgrave Island and
Fraser Island out left if you're high enough and the visibility is good.
Bundaberg has a funny-shaped military zone that goes around it. Red patches on the map give me pause for thought and the military ones even more so. As it doesn't begin until 5,000 feet, it was hardly going to matter today as we tracked the coast south on a clear, fine day.
"It's also good to remember what my father used to say "You can't climb as fast as a hill"."
Bundaberg is a much more substantial airfield and we found ourselves having to slot into the pattern with a Royal Flying Doctor aircraft, a Virgin flight and other private traffic. A bit of a shock after Agnes Waters and 1770. You won't need to practice your short fieldwork for this one as you have 2,000 metres of tar on the primary 14/32 and even 1,100 metres on the 07/25 \grass alternate. It's a large, security-controlled airport, so you will need an ASIC. Fuel services
and even mechanical services are available there plus a rather nice terminal with coffee. A quick
fuel up and we're off again. The next leg to St George is 275 miles.
As so often happens near the Queensland coast, cumulus clouds were forming up and we elected to go high and smooth. At least I did. My passenger is of the view that the closer to the ground you are, the safer it is. Some people are weird. After ducking out of the military zone we climbed to 8,500 feet, where we were sitting above most of the clouds with the odd peak poking up past us. It's a pleasure to fly with the blue sky above and the odd cumulus top passing by out the window like a mountain peak. It's the sort of leg you fly for. The only nagging doubt as we progressed inland and crossed the ranges was that there weren't a lot of good options for a forced landing. It was drilled into me in training to always be conscious of where we were going to land in an emergency. I mean, if the engine just quit. Where are you going? At that height at least we would have plenty of time to think about it. 8,500 ft, say a glide ratio of 9 to 1.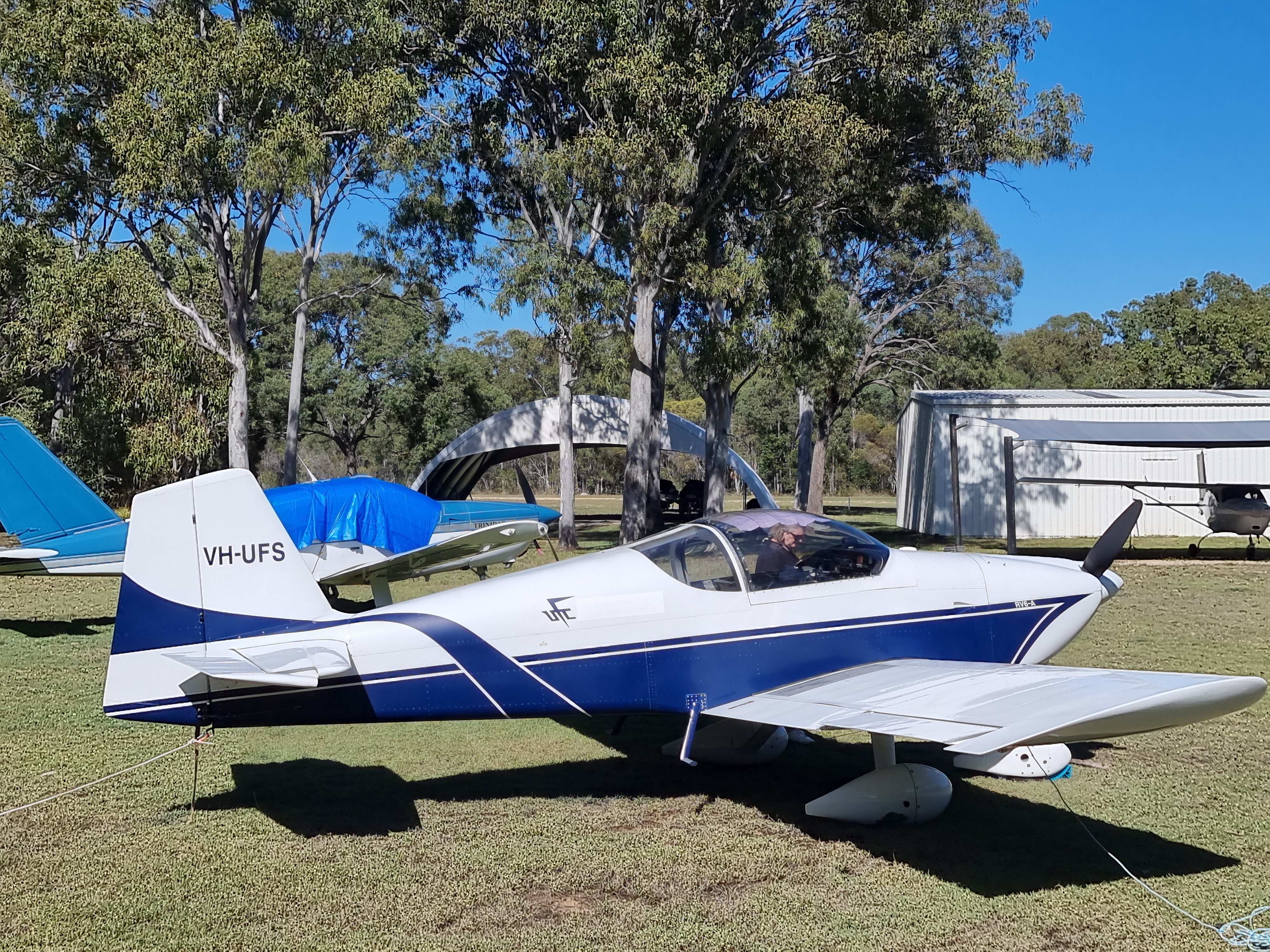 My RV6-A parked under gum trees at Agnes Waters.
That's ahhh…76,500 feet…a nautical mile is about 6,000 feet…so that's like 12.5 nautical miles. Sinking at about 500 feet per minute…so a bit over 15 minutes time. These are the things I think about on longer legs. That and toilet stops.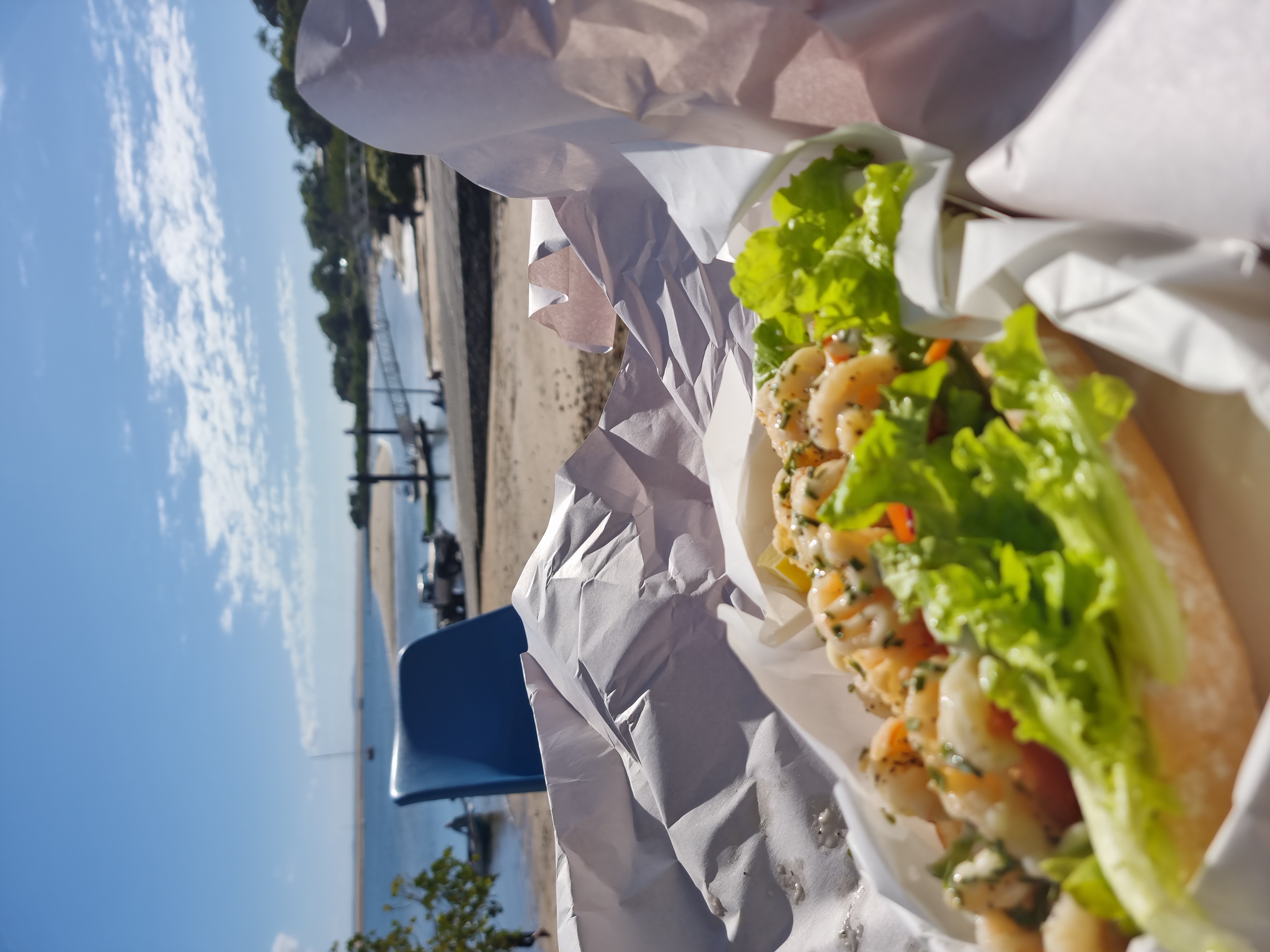 St George sits on the Balonne River and the weir outside town means it always has a wide stretch of water in the river. It's a pretty town. As a centre for agriculture in the region, it has a pretty substantial ag-flying operation and we could hear several planes calling on the CTAF at the airport. Jones Air is an ag and maintenance outfit running out of St George and they will sell you fuel there on weekdays. We had booked accommodation with Andarr B&B who were also good enough to come and get us from the airport. That seems to be common up that way and is a tribute to Queensland hospitality. A brief walk down along the charming waterfront brought us to the Australian hotel, where you can enjoy a traditional pub meal and both kinds of music – country and western. One of the stalwarts of regional towns are the bakeries and St George bakery is good by any standard. After a breakfast of tea, toast, eggs and more at Andarr, we loaded up with sandwiches for lunch the next morning and were back in the air early bound for Charleville 160 miles away.
Landing in Charleville, I again was a little jealous of the quality of regional airfields in Queensland compared to Victoria.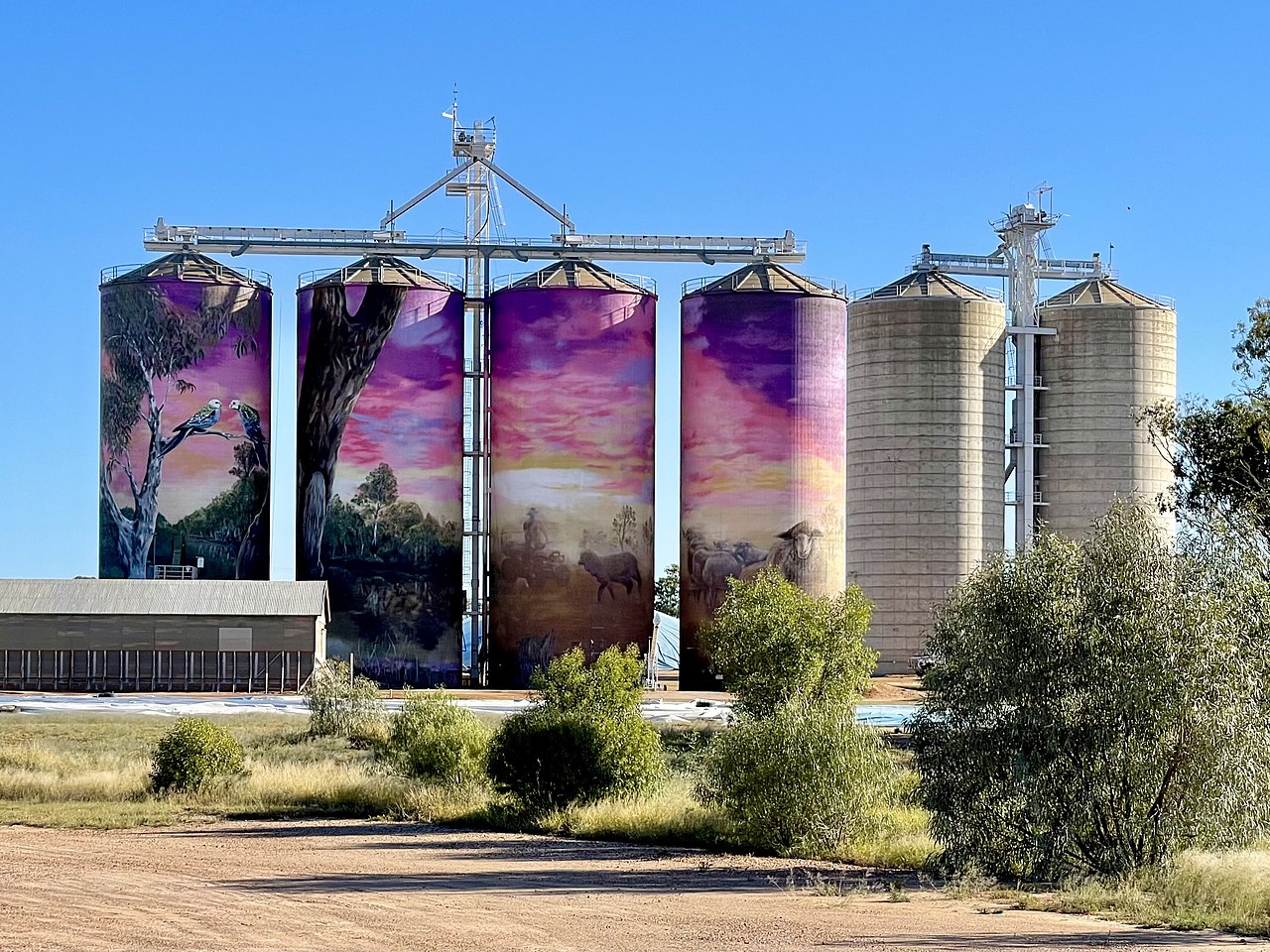 St George Thallon Silo Art.
If you're landing in Charleville, you're going to want to talk to Peter Wade at Flight Deck Café located at the airport. He can hook you up with fuel and a car,
Hotel Corones, Charleville, is good for a meal and a cold drink. There's accommodation, too. 
plus he seems to know everything about the town. Then you can head into Charleville. They say the dividing line between regional and bush is whether there is crumbed steak on the menu and by Charleville you are well into crumbed steak territory. The local RSL will take care of your crumbed steak needs, but also has plenty of other options. But to experience the true majesty of Charleville and get a glimpse of what it must have been like in its roaring days, check out the Hotel Corones. The Corones covers an entire city block and the main bar is a sea of tiles and taps. This is pub architecture on a grand scale with street-long verandas. You should also take a look at the "Secret Base"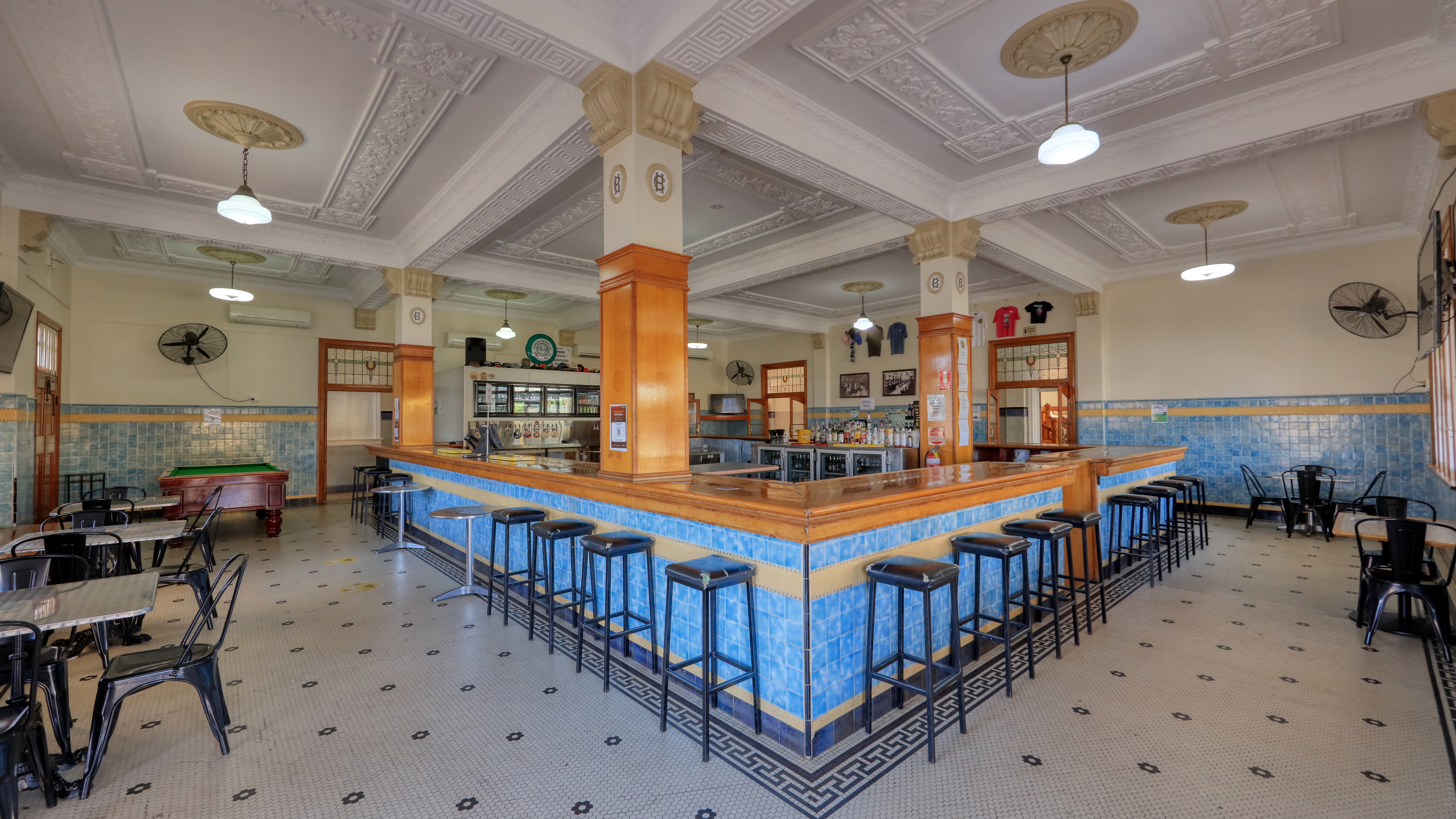 Hotel Corones, Charleville, is good for a meal and cold drink. There's accommodation, too.
museum at the airport which shows you the history of the field in WW2 when it was a US air force base. The museum is still in development, but well worth a visit. On this particular trip, that was as far west as we got before heading south into NSW, buts that's a story for another day. 
 Royal Flying Doctors Information Centre - Charleville airport.