Exmouth (YEXM), WA
Exmouth Aerodrome (YEXM) is your gateway to the incredible Ningaloo Reef, the world's largest fringing reef. It's an aquatic playground for marine life and those who love a bit of adventure. From above, the azure waters meet the pristine beaches that blend into the red desert – it's, without doubt, a bucket-list destination for any pilot.
FACILITIES
There is one main unsealed runway at the Aerodrome (02/20) with a 211m central sealed section. Be aware that the runway is subject to closure after rain. The area is also unfenced, so stay alert for wildlife! Aircraft parking is available at the southernmost taxiway, and public bathrooms are available to the north of the parking area.
GETTING AROUND
The Aerodrome is located 13km south of Exmouth township. Exmouth Bus Charter is available to take you into town and to some accommodation. Taxi services can be pre-booked or there are a number of rental car companies that can meet your aircraft at the aerodrome to help you explore the area.
EXPLORE
Start with a trip below the surface – book a tour and swim with whale sharks on the Ningaloo Reef, or go on your own snorkelling adventure at Turquoise Bay and get up close to turtles, rays and hundreds of species of fish. Once you've had your hit of coastal activities, head out bush to the Mandu Mandu Gorge or epic Yardie Creek in the Cape Range National Park.
EAT & DRINK
Try the fresh, local seafood at Whalers Restaurant and unwind with some live music on the deck. For a casual dining experience, enjoy a pint of local beer at the Froth Craft Brewery, which dishes up tasty bar snacks and meals for lunch and dinner each day.
STAY
There's the full spectrum of accommodations available here, from luxury beach resorts and holiday homes to more budget holiday parks and glamping options overlooking the beach.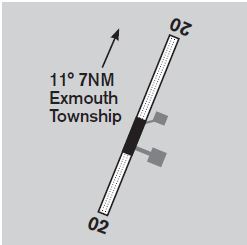 ELEV: 10 ft RWY: 02/20 1,260m unsealed gravel strip, with 211m central sealed section.
CTAF: 118.3 MELB CENTRE: 125.9RWY LIGHTING: Solar lighting HN. RWY 02/20
AD OPR: Shire of Exmouth Exmouth Airport Operations(08) 9949 13260407 494 419
REMARKS:— PPR CTC ARO — Strip closed after heavy rain
FUEL: Unavailable.
AD CHARGES: Contact Exmouth Airport Operations for more info.