Coast to Coast
I don't know about you, but the reason I got my pilot's licence was to explore in a way that can't be done with two feet planted on the ground. Since we're limited to Australian shores for now, it's time to make the most of the wonderful places that are right here in our own backyard. Venture off the beaten path and discover a few of our favourite coastal spots to fly in and enjoy.
Mallacoota, Victoria
Located just south of the New South Wales border you'll find Mallacoota, a stunning coastal town tucked away amongst the backdrop of granite peaks and heathland. Although the area was hit hard by fires in 2020, the bushland is already on the recovery and on its way back into the picturesque spot it once was. As you descend into Mallacoota, you'll be blown away by the stunning inlet that stretches upstream to the Genoa and Wallagaraugh Rivers and surrounding wilderness of the Croajingalong National Park.
Just 700m up the road from the airport is the Mallacoota Bunker Museum, which is a must-visit on your way into town. Built during the Second World War to house the RAAF coastal intelligence activity, its main purpose was for surveillance to keep shipping channels open between the capital cities. Step into the large bunker yourself and experience the space which was used for anti-submarine operations.
The main township itself has been built around the lake, so there is no shortage of activities to help you relax and unwind by the water. Known to be one of Victoria's best fishing spots, hire a boat and test your luck fishing for Dusky flathead or bream. If you are feeling a little more adventurous there are also local charter companies that can help you discover the best spots. If fishing is not your thing, there are more than 100km of pristine coastlines to enjoy. Venture further afield and explore the many hiking and cycling trails that weave between hidden beaches and quaint jetties, or book a day trip out to Gabo island where you can ramble over pink granite shorelines and rockpools with spectacular views back to the mainland. Once you've worked up an appetite, there's a number of excellent cafes and eateries to enjoy a feed with magnificent views across the lake. Whether you're swimming, canoeing, kayaking or simply soaking up the sun and sand from the shore, you'll fall in love with this undeveloped coastal village.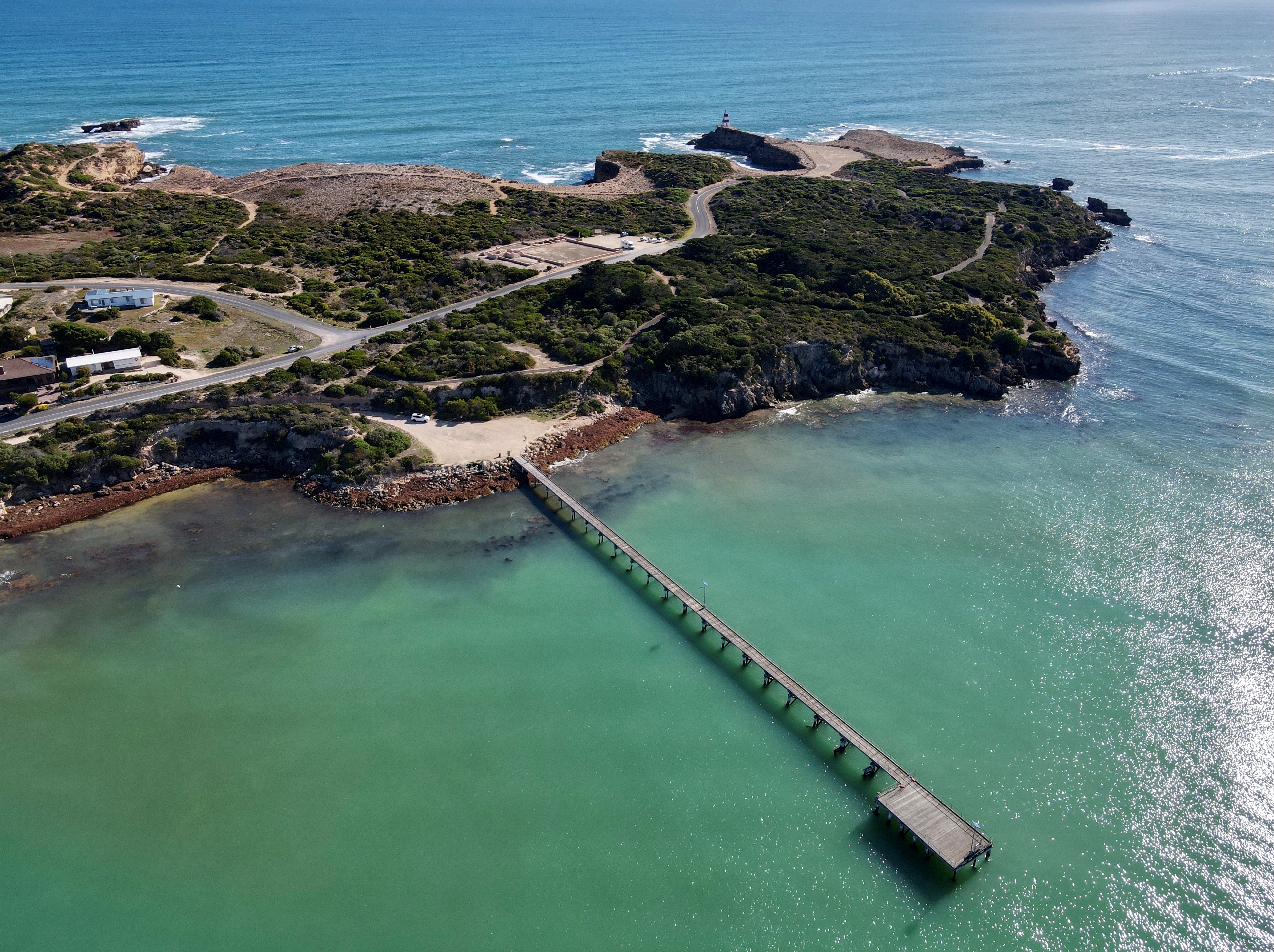 Robe, South Australia
Located 145 NM Southeast of Adelaide, Robe is a popular seaside town with plenty of character, making it the ultimate coastal escape. Better yet, the airport is only a hop, skip and jump from the main township. Robe is well known for its beautiful beaches, heritage-listed buildings and its iconic red and white obelisk atop the rocky coastline designed to guide ships along the coast. As you descend into Robe Airport, you'll appreciate why this part of the world is known as the Limestone Coast – the geological makeup of this region means that it's probably some of the bluest water you've ever seen.
Once you're in town one of the things that will likely catch your eye is that there's crayfish on offer at just about every turn. The abundant local fishing industry in the area means the seafood on any menu in town is bound to be fresh and delicious! Not only does it come at a good price but you can literally see the cray boats sitting in front of you. Take a stroll down Victoria Street where you'll find plenty of lovely eateries, galleries, boutique shopping and all of the supplies you need for your coastal escape. Once you're well fed, it's time to explore.
The novelty of this stretch of coastline is that there's plenty of opportunity to drive on the beach! There is a local company called Billy Bob Tours who will take you out on the 4x4 tracks through the sand dunes and along the beach. He also offers accommodation pickup but if you ask nicely, he will come and grab you from the airport! This makes for the ultimate day trip, but if you ask me, it is worth sticking around to soak up some coastal relaxation time.
After a big day of exploring, it's time to cool down in the refreshing, turquoise waters of Town, Karrata or Hooper Beach which are well-protected within Guichen Bay. With so much magnificent coastline to discover, you'll be planning your next trip to Robe before you've even left.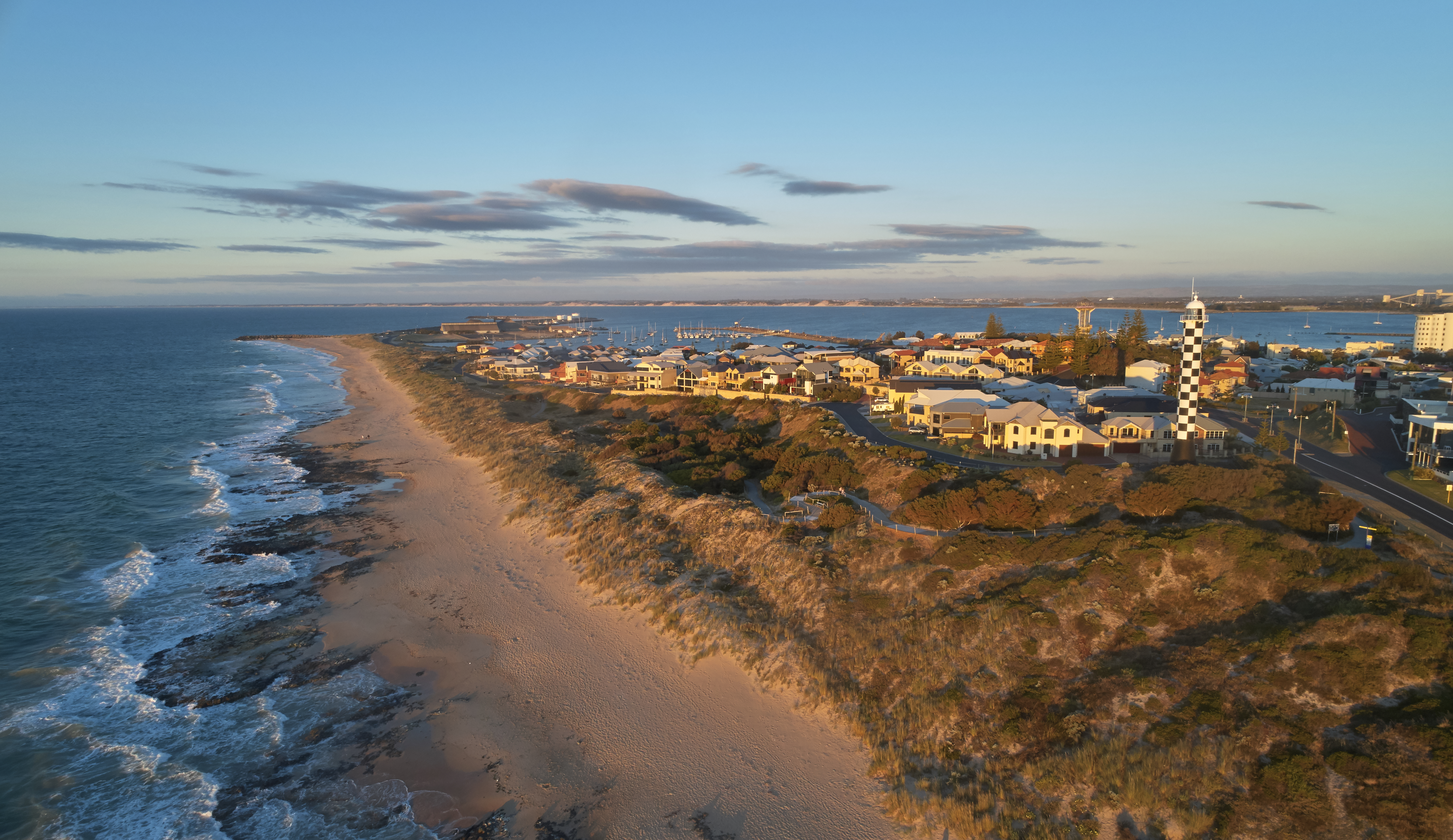 Bunbury, Western Australia
Located 85 Nautical Miles south of Perth, Bunbury is a fantastic entry point for pilots to gain access to the southern aspects of Western Australia. Although, it is worth noting that this town has more than enough on offer to keep you entertained for weeks. Descending into Bunbury, you'll be treated to (arguably) some of the best coastline in the country.
A quick taxi ride into Bunbury and you'll find yourself the perfect base to explore this amazing part of Western Australia. We recommend you hire a car in Bunbury to get the most out of your stay. If you enjoy spending time out on the water there is a long list of unforgettable coastal experiences – there is no such thing as a mediocre beach in this part of the country, with some of the whitest sand and brilliant blue water as far as the eye can see. In many circumstances, you might even find you're sharing this incredible coastline with just a handful of locals. From ocean kayaking, canoeing, snorkelling, sailing to windsurfing, this region is a natural playground for water activities. You can even swim with the dolphins! Each day from November to April, the Dolphin Discovery Centre offers a package where you can swim with the dolphins in their natural environment.
If you prefer to remain on land, however, then you must venture further down the coast. Beach hop your way down to the iconic Bussleton Jetty, the longest timber pile jetty in the southern hemisphere at 1.8km long. If you're a lover of fine food and wine, leave some time aside in your schedule to explore the Margaret River wine region for a few tastings and a meal at one of the dozens of cellar doors dotted along the famous Caves Road. And if that isn't enough to keep you occupied, you might be lucky enough to spot one of four species of whale (between June and August) as they migrate through the region.
Author's Note: Always check the latest information in ERSA and better yet, call the airfield ahead of time to get the lay of the land.