World Class In The Heart Of the Fraser Coast
Picture this. The warm Queensland sun hits your face as you wake up on Sunday morning. You climb out of bed and look out the window. It's another beautiful, clear day along the Fraser Coast; with not a cloud in the sky. You decide it's the perfect day for a fly, so you get ready and prepare yourself for the trip down to the hangar.
You step into your garage… and your trip is complete. Your plane is sitting right there waiting for you. It sounds like a dream, right? But this could be your reality at the new Aquila Estate & Flying Club. Backing onto the Ferguson State Forest and only minutes from Maryborough, the Aquila Estate & Flying Club is Australia's own world-class fly-in gated community.
Built with a love of aviation at the forefront of planning, the Aquila Estate aims to foster a community of like-minded people who value the peace and tranquillity of country living and the blissful ease of access to your very own runway. Imagine taxiing out of your driveway and down your street. You wave to your neighbour as you go by.
They've just pulled their aircraft out for pre-flight. You continue down the street and notice all your. 
Neighbours are doing the same. You're living in a community with a shared passion for flying and it's absolutely incredible. The defining feature of the Aquila Estate is the 800m manicured grass airstrip, perfectly designed and engineered for your aircraft. From here you can take off on countless adventures, be it solo, with loved ones or with a group of friends. Hervey Bay is only 20nm away, with the spectacular Fraser Island lying just beyond where you can stop at Orchid Beach airstrip in your aircraft and enjoy their famous burgers.
Taking off from the Aquila Estate airstrip, you'll immediately notice you're spoiled for choice when it comes to beautiful locations to fly. The pristine Fraser Coast is on your doorstep, and spectacular locations like Noosa Heads, the Glass House Mountains and Stradbroke Island are only a short flight away. Perfectly located between South East Queensland and the state's tropical North, there are plenty more adventures from which the Aquila Estate makes the perfect base. Once you've returned for the day, you'll taxi your plane back to your bespoke home. 
There are adventures to be had back at home too, with Ferguson State Forest at your back door. Nature trails abound in the surrounding bush, be it for walking, birding or mountain biking. There's also ample opportunity to kick back and relax, with a purpose-built clubhouse for residents to enjoy as they please. Not far away is the magnificent Wongi State Forest, where you can immerse yourself in a landscape of pine and eucalypt forests surrounding stunning waterholes, fringed by paperbarks, making it a photographer's dream. Aquila Estate makes it an easy process to build your dream home to perfectly suit your family and lifestyle needs. With their Design & Build option, it gives residents a complete turn-key package; allowing you to use Aquila's architect, project manager and builder.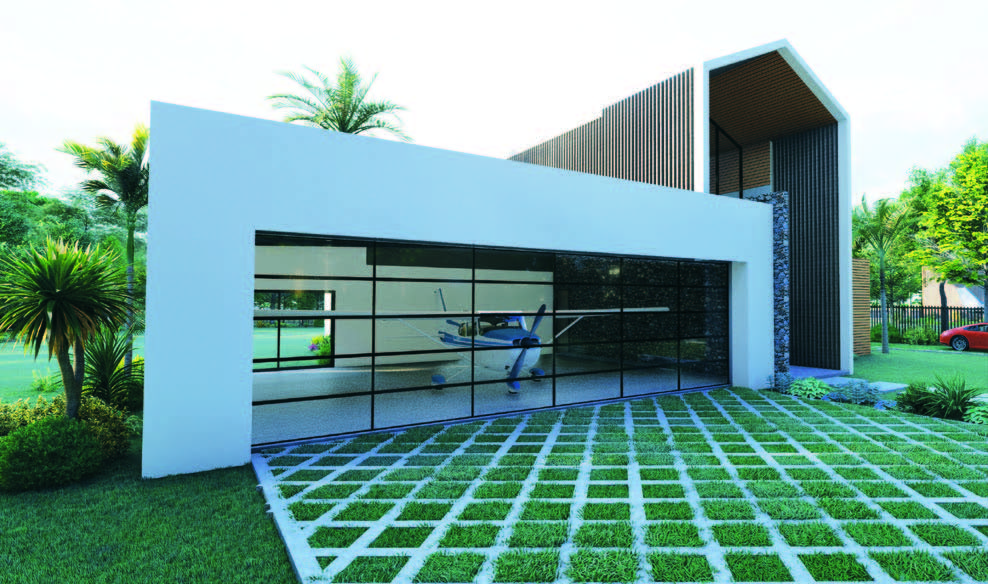 Hangar or garage? Don't fret, you've got both! Credit: Goldie Group
Furthermore, Aquila has put into place carefully tailored covenants and development standards to protect your asset and investment for years to come. As aviation lovers, the Aquila Estate & Flying Club offers a way of living that is truly unavailable anywhere else in Australia. It gives its residents the ability to live within a harmonious community of pilots and enthusiasts, in one of the most picturesque corners of the country. It may sound like a dream, but it's time to live it.
To express your interest, contact Russel Segal.
0412 234 649 | russelsegal@remax.com.au