Kevin Mcgrath: I'll Still Be Flying
THE 92-YEAR-OLD PILOT WITH NO PLANS TO QUIT
At the age of 92, it's fair to say that Kevin McGrath has seen and done a fair bit in his life. From a career as an ambo in the 1960s, to President of the Darling Downs Sport Aircraft Association through the last half of the 2010s, Kevin has always been keen to take on a new challenge and push himself. We recently sat down with the actively-flying nonagenarian to find out how his incredible story, in aviation and beyond, came to be.
It takes most pilots about 6 to 12 months from the beginning of their flight training to obtaining their Recreational Pilot Certificate. Some take less time, others take more, but I'd be happy to bet Kevin McGrath's 60-year gap sets some kind of record.
"I remember a great cloud of airplanes flying overhead, so low I could see the pilot's heads," Kevin recalls to me about an otherwise typical day at primary school in the Darling Downs, Southern Queensland. "This was 1942, and I always thought it had something to do with a retreat from the Japanese advance. That was what piqued my interest." It's not often you speak to someone who became interested in aviation from a firsthand experience of World War 2, but those shiny new warbirds streaking across the Queensland sky is exactly what did it for Kevin.
Soon after, Kevin began his flight training. Given the 2-hour drive to Toowoomba and the high cost of lessons at the time, he decided not to hurry with his training, taking his time in order to save money. Flying in Tiger Moths, Kevin was able to build up 10 hours of flying before an unexpected – but nonetheless welcomed – interruption caused his trips to Toowoomba to stop; a beautiful girl.
"I couldn't afford to both get married and go for a flying career, so I opted for marriage" Kevin said with a chuckle. It wasn't a hard decision then, and it's not one he's ever regretted. "I persuaded her to come to the party and we're still married now, 68 and a half years later."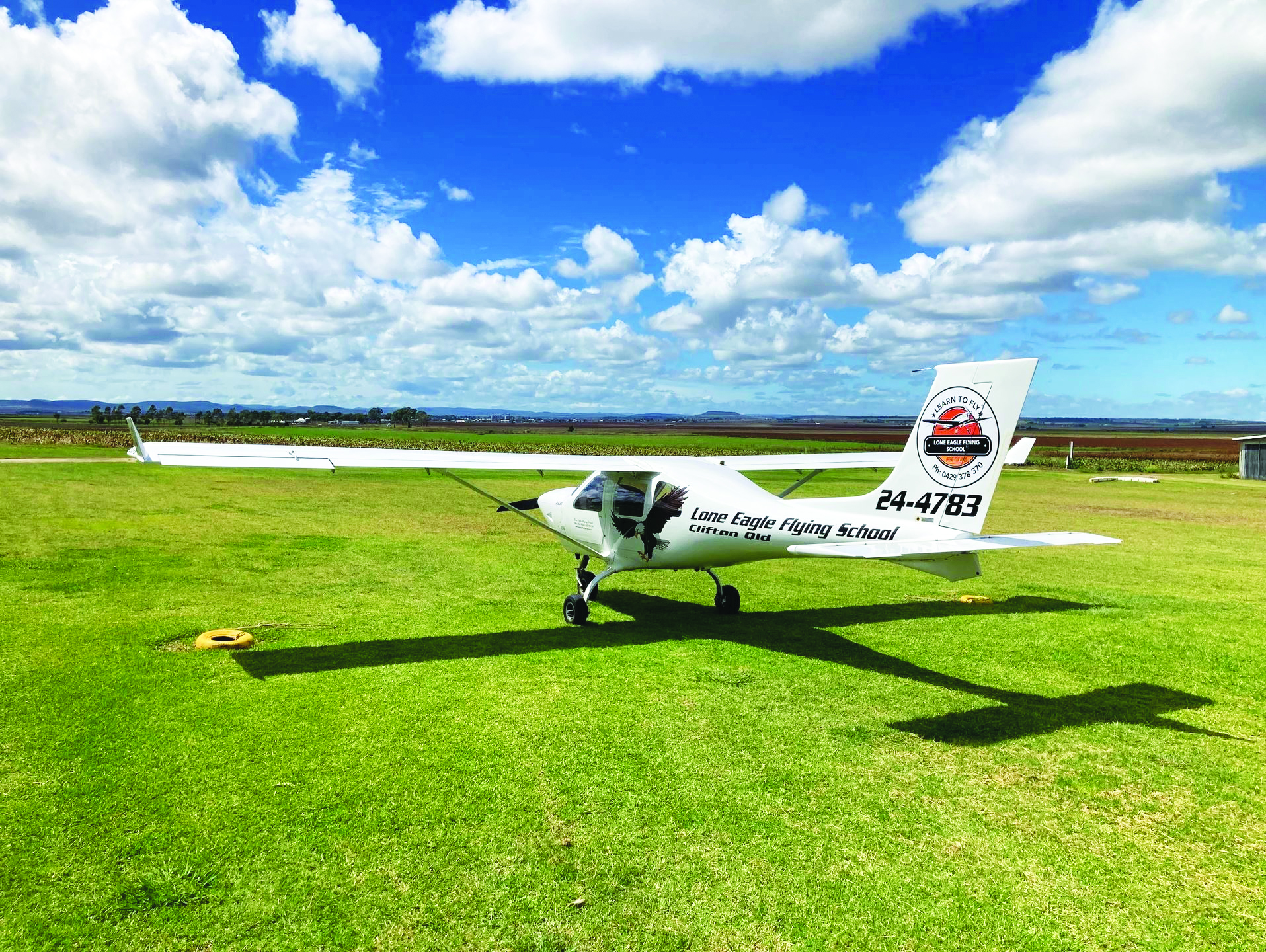 After finding it hard to get a promotion in his very competitive industry, Kevin decided to quit this job as an ambo and become a funeral director. An odd career change indeed, but one he found considerable success in. So much success in fact, that he would remain here until retirement.
As part of this role, Kevin often had to charter aircraft to locations as far as Tully in Far North Queensland and remote locations along the Northern Territory border. His youngest son would beg for the day off school to sit in the cockpit, and would often get to tag along. Kevin however, moving closer and closer towards retirement, just liked to sit in the back and reminisce upon his own flying endeavours.
Kevin has enjoyed a happy retirement, but perhaps the biggest part of this came on his 80th birthday. His two sons, both pilots, decided to get dad a present; flying lessons. Kevin was eager to begin his training again, some 60 years from his initial foray into flying. He did his research and decided that the Jabiru J-160 would be the most suitable aircraft to train in, the closest ones being at the Lone Eagle Flying School, 45 minutes from his home.
He made the journey out to Clifton, not sure what to expect. Would he remember anything from those initial lessons? Would he be able to keep a plane straight and level, while navigating, while communicating, while taking in the view from the pilot's seat he hadn't sat in for more than half a century?
Training under the watchful, experienced eye of CFI Trevor Bange, Kevin began to build his confidence in the cockpit. Soon enough, he was handling circuits with ease. Kevin's mind then turned to something he wasn't quite sure was ever achievable: flying solo. As an 80-year old student pilot, was his instructor ever going to be confident he was fit and healthy enough to fly alone? Stoically, Kevin concluded that the decision was out of his hands, and until someone told him otherwise, he was just going to fly.
That's the mindset that has reaped immense rewards for Kevin. Not only did he fly solo and obtain his RPC, he's kept flying to this very day, with no plans to slow down. "I've set my sights on 100 now" he tells me with a chuckle, "As long as I'm confident in my abilities, I'll still be flying." Along the way, he's become a vital member of the Darling Downs Sport Aircraft Association, and even served as the club's president for more than 5 years.
It's not often you speak to someone who became interested in aviation from a firsthand experience of World War 2.
During his tenure, the Darling Downs Sport Aircraft Association – and its associated Lone Eagle Flying School – have seen strong growth, with an everincreasing membership base and a reputation for impeccable flight training. It's incredible the impact that Kevin has had on a community he only joined in his 80's, but it's a testament to that "do what you can" attitude that has got him so far in all aspects of his life.
Today, you're likely to find Kevin somewhere around Clifton Airport (YCFN) either enjoying a flight, chatting with club members or preparing for his upcoming Biennial Flight Review – a test he's quite confident about.
Kevin's story is an inspiring one, not just because of his age but because of his determination. It's undeniably a story of 'it's never too late', but it's also a story of resilience. Carry on, no matter what comes at you, and keep your eye on your goals. Don't let things that are out of your control put you off, acknowledge them and adapt – that's the Kevin McGrath way.